Tampa Bay, this is your summer. Promise. Why? We created a fire list of fifty activities that'll make Summer 2018 your best summer ever. You're welcome.
At Aceable, our goal is to empower students to reach their goals, like getting their drivers license. We accomplish this goal by making drivers ed student-friendly with our brilliant writing and use of modern technology (apps). Start earning your license now by downloading our Florida-approved drivers ed app for 25% off so you can check off all these items on our summer bucket list. Once you reach licensed status, you'll have even more freedom to do the things you want this summer.
1. Let's get the Florida classic summer tradition out of the way: go to the beach . Slap on some SPF 30, fall asleep on your beach towel, take a swim, wave at the hotties on your right, pretend they waved back, and then go home with a great tan. Yes, going to the beach is a great choice. And while there are a lot of great Tampa Bay beaches, our faves are the Key and Clearwater Beach .
2. When one thinks of Florida, one thinks of beaches, amusement parks and retirement homes. Well, IMHO (In My Humblest Opinion) water parks are the best type of amusement park and Adventure Island is the best water park mankind has seen. At Adventure Island, you can spend the day going down their oh-so-fun water rides or just take it easy on the Rambling Bayou, floating in circles with the squad.
ProTip: Here's a great deal on a weekday pass.
2016 Summer #SquadGoals
3. If getting the ish scared out of you is high on the summer bucket list, then you must include a ride on Busch Gardens ' SheiKra in your summer plans. On the Sheikra, you'll slowly climb 200 feet up in the air before staring at the ground at a 90 degree angle, with nothing but a flimsy strap preventing you from falling to your death. And during that eternal three-second pause at the top, you'll have plenty of time to consider how much of your life you spent subtweeting. No worries tho. You'll take off at 70 mph towards the ground in no time.
4. Looking for some shade from the summer heat? Head on over to the Tropicana & its wonderful A/C to cheer for the Tampa Bay Rays . Plz remember to get up for DJ Kitty during rally time. #RaysUp
5. After watching "the Rays," why not check out their namesake? At Lowry Park , you can actually pet rays, which might help with the sting of an unlikely Rays loss.
stingray vibes
6. I honestly can't think of anything more brag-worthy to say on the first day of school than talking about how you swam with sharks over the summer.
7. How about some love for the manatees? At River Ventures in Crystal River, you can jump in into the river with your scuba gear and just chill with your favorite sea cows.
8. You can also drop by Mote Marine Laboratory & Aquarium and give your regards to Hugh and Buffett. You might accuse me of adding another manatee destination just so I could shamelessly include another manatee gif. And you would be right, my dear internet friend, you would be right.
9. How about a free show ? If you or your ancient parents bought a ticket from the Ticketmaster website between 1999 and 2013, you could go to a concert for free! Thanks to the settlement from Schlesinger v Ticketmaster (classic Schlesinger move), Ticketmaster is offering free vouchers to customers for selected concerts. Find more info on voucher-eligible Tampa concerts here .
10. Speaking of concerts, the Vans Warped Tour is coming to town August 4th. Go 'head and order your black eye shadow.
11. Roller derby is not a sport for the weak of heart . So if you're in the mood for some heart-stirring action, come out to the Tampa Bay Derby Darlins League and see teams like the Cigar City Mafia and the Tampa Tantrums battle on the track. Feeling extra brave? Join a team and see if you have what it takes to make it to Team USA!
PSA : Don't ask roller derby athletes about rollerblades. Lessons learned, my friend. Lessons learned.
Tampa Bay Derby Darlins: Don't ask them about rollerblades
12. Golf courses are cool and all, but in our beloved Florida you have to fight with a crowd of grandpas just to get some tee time. Fortunately, there's Tampa Top Golf where the grandpas are fewer and opportunities to smash golf balls are greater. Don't forget to enjoy the "Mac Daddy" while you're there.
13. "Each morning when I awake, I experience again a supreme pleasure - that of being Salvador Dali." - Salvador Dali. You can enjoy the work of the original Kanye at Tampa's Dali Museum . (All jokes aside, Dali's an amazing artist btw.)
"I don't do drugs. I am drugs." -Salvador West
14. Ahh, nature. Accessible only by personal boat, Egmont Key State Park is a great choice if you're seeking refuge from modern life and its troublesome features such as tv's, hover-boards and the puppy Snapchat afilter. Enjoy wildlife and perhaps get that new profile picture in front of the 1858 lighthouse.
15. Get active and go out on the water with a SUP (standup paddle board), so you can laugh at all the peons stuck on shore as you show off your balance skills out on the mighty bay waves. You can rent a SUP from WhatSUP South Tampa , and if you're feeling super adventurous you can even even take yoga lessons on a SUP there.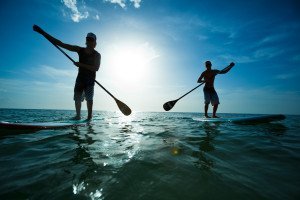 UGH. SO GORGEOUS.
16. I'm going to keep it real and let you know I've never done this next activity myself. However, kiteboarding looks super reckless AKA fun so it's high on my list of things to do. Be safe and get some lessons at Elite Watersports first so you don't fly off to somewhere awful, like Nebraska.
17. Here's a great idea: let's give you a parachute, tie a rope to you and a boat, and then hit the gas. Sound like fun? Then swipe right for Parasailing the Pass and see the beach and seas in a way you never have. It'll be so much fun your friends won't believe you.
"Ashley will never believe this"
18. If you've ever thought, the only thing that sucks about riding my dear Schwinn is all this stupid land beneath my pedals, then check out Tampa Bay Water Bike Co where you can peddle the bay on your water bike while enjoying our city's freaking gorgeous skyline.
high five success
19. I'm sure you're a nice dude with some nice dreams. Well, head over to Kilwins and enjoy some ice cream. (Major points if you get that reference.)
20. Major Key Alert: If you consider yourself a spelling-bee level genius , invite your smartest friends and head over to Tampa Bay's Escape Room where you and your squad will play a real life adventure game with one goal: escape a room in 60 minutes without destroying your friendship. Accomplish this feat by finding clues, cracking codes and solving puzzles before time runs out.
21. Inspired by Messi? Head on over to Tampa Bay Bubble Socce r where you'll be running around (and mostly falling down) in giant, inflatable bubbles.
how americans play soccer
22. How 'bout a classic game of slip-n-slide kickball ? Just round up some plastic sheets, kiddie pools and some fun friends and you'll have game of the summer.
23. Summer is a great time for romance and there's no better way to spend time with your boo than watching a movie at a drive-in movie theatre .
ProTip: You'll need a license to drive your car to the drive-in theatre and guess what? I know a Florida-approved TLSAE app so you can get your license.
24. Want to really impress your crush ? Nothing says romantic like a hot air balloon ride up in the clouds to Paradise Falls. And maybe, just maybe, you'll have a love story like Carl and Elliot. *ugly tears*
Elliot and Carl forever
25. How about a nice stroll? A walk on Bayshore Boulevard with the fam is good for the soul and the wallet.
26. ¿Que bola? It'd be a shame to spend your summer in Tampa without indulging in a classic Cuban sandwich , and the honey Cuban sandwich at the West Tampa Sandwich Shop is Tampa's best. !dale!
27. Nothing says hipster like going to the Tampa Theatre for their Summer Classics Movie Series . Gain an appreciation for classic cinema treasures such as "The Graduate" and "Young Frankenstein".
28. On the list of gentlemen sports, sailing is slightly ahead of tennis, badminton and crochet battles with the Queen. Head on over to Tampa Bay's Sailing Tours , and you'll learn a little bit about the seas and the difference between Leeward and Windward sides.
full sail ahead mates
29. The perfect antidote to the hot, humid Tampa Bay summer is floating down a cold spring on a tube. And while there are plenty of fresh coldwater springs to tube up north in Ocala, I recommend KP Hole and the Rainbow River .
30. Speaking of the outdoors and rivers, what about camping on the river? Hillsborough River State Park has 112 sites with water, electricity, picnic tables and kayaking, plus seven miles of nature trails. Plus, the Hillsbourough River cuts through the park, so you can go kayaking, canoeing, and fishing here too.
31. Camping on the beach is for that next-level beachgoer, and Fort Desoto County Park i s a great destination for elite beachgoers as this state park has a "Top 10" beach with plenty of great camping sites on it.
Basic Beachgoer: drives to beach, parks at beach, walks to beach
Next-Level Beachgoer: walks out of tent to beach
i woke up like dis
32. Immerse yourself in the world of Hogwarts School of Witchcraft and Wizardry by heading over to Islands of Adventure . There's plenty of other attractions there too, including my personal fave The Incredible Hulk Coaster.
33. Maybe you've already gone to the neighborhood Adventure Island 50 times so you're looking for a new water park to hit up. Fortunately, you've got Orlando's Aquatica nearby for some more fun in the sun.
34. Looking for some late-summer activities? Geek out, I mean Geck out, this Labor Day weekend at Geckofest 2018 in Gulfport!
35. Every first Thursday of the month, " Rock the Park " showcases local Central Florida artists for free shows at the Curtis Hixon Waterfront Park. Get your thrifty rock on.
36. If you don't have your license*, trolleys are a scenic way to get around town this summer until you can drive.
*Dude, you should totally take Aceable.
37. I get it, summer's all about sleeping in, but here's an idea: wake up before noon so you can accomplish all the items on this fabulous bucket list. Tre Amici and West Tampa Sandwich Shop are two great local coffee shops to start your day.
38. Get you a coffee shop that can do both . The historic Oxford Exchange has both great food and drink options ( Buddy Brew Coffee !) and modern retail options ( Warby Parker , a bookstore , and a vintage find shop ). Stop by for a latte, leave with some sweet hipster lenses.
a coffee shop that can do both
39. Tampa's community pools are a great way to get wet this summer without spending your entire allowance. Our personal faves are the Dr. Martin Luther King Jr. Pool ($2 entry fee) and the Highland Family Aquatic Center ($8 entry fee for non-members + they have a 214 ft corkscrew water slide).
40. Speaking of money, how about making some money as your own boss this summer? Sign up on Fiverr so you can make money online, doing fun (and career-building) tasks like drawing cartoon portraits, translating texts, or editing videos for other companies.
41. Use your summer to play with puppies and give back to those who've had a ruff start at Tampa's Humane Society. Maybe you can play photo shoot with a pug and recreate the adorbs photo below?
omg so adorbs
42. What's a Tampa Bay list without including Tampa's Riverwalk ? Not sure, because this isn't going to be one of those (subpar) lists.
43. Busch Garden's Summer Nights (May 25 - August 5) make a great place even greater. Fireworks + rollercoaster rides = #SummerGoals.
44. Get your Lance on. Flatwoods Park has a seven-mile paved loop road perfect for cycling, so you can pedal to the medal while enjoying the woods.
45. Sharing is caring, and Tampa's Bay's Coast Bike Share program is a perfect way to take in the city and see the bay's waterfront beauty this summer.
Please take me on a ride. Pretty please?
46. Make your own slip-n-slide. All you'll need is plastic sheeting, water, and some heavy stationary objects to weigh it down that won't hurt if you hit them, i.e. water balloons. Guaranteed neighborhood pleaser.
guaranteed way to be the cool kid on the block
47. ProTip: Make a great first impression on your crush by showing up to the beach on a jet ski . If you don't have a jet ski like the rest of us normal folk, pretend you live that life and rent a jet ski from Fun Unlimited . For a scenic afternoon ride, I recommend jetting over to John's Pass. Just make sure you have enough gas.
48. Curious where the inspiration for Snapchat flower crown filter came from? Then check out the Florida Botanical Gardens (admission is free) to see real flowers, as in like gardens and stuff. You could even take a flower crown snap with real flowers. #Flowerception
the fairest flower crown of them all
49. The 2018 World Cup lasts through mid-July, and I can't think of a better way to get through that mid-summer slump than huddling around the tv and cheering on your favorite team.
50. Get your driver license with Aceable. Sure, it's a shameless self-promotion, but guess what? Everything on this list would be 100 times easier if you could drive a car to get there. We make it simple for you with our top-rated app, GOAT customer service team and best-value prices. Get started today for 25% off cause our love for Tampa Bay is real.