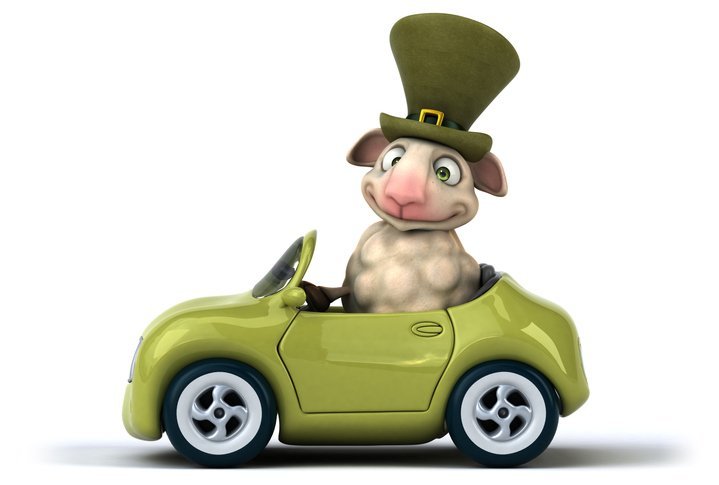 When St. Patrick's Day rolls around, no one thinks twice about drinking green beer, wearing green costumes, and sporting green hair, but have you ever considered driving a green car? For many, green isn't the first choice in car color but, surprisingly, green cars yield good resale value. Here are six green-colored cars we think St. Patrick will approve of.
2011 Dodge Challenger: Green With Envy
It's not the first time the Dodge Challenger streaked down the streets in green. The 2011 Green With Envy edition joined previous green editions: Sublime Green and Green Go in the 1970s and Snakeskin Green from 2008-2010. The 2011 "Green With Envy" Challenger was a limited edition and makes a cool collectors' car. It was available in the R/T Classic and SRT8 392 models and only 1532 were produced.
BMW M4 Coupe: Java Green
BMW's Individual color range allows you to customize your M4 Coupe with a selection of unique exterior colors. Why not dare to be different with the hot Java Green Metallic color . If you're planning on modifying your BMW M4 Coupe for street racing, you've already got the perfect color for the drag strip. BMW first introduced Java Green on the high-performance 1M series in 2011. Today, this color is offered in the M4 and several other models across the BMW range.
1972 Jaguar E-Type: British Racing Green
The 1972 Jaguar E-Type is a beauty and an antique car collector's dream. This two-seater convertible roadster was produced in classic British Racing Green. European and U.S. models differed slightly in exterior features and name. It was called the Jaguar XK-E in the United States. The E-Type Series 3 was produced from 1971-1975 and featured a 5.3-liter 12-cylinder with a V12 engine that was specifically developed for racing in the 24 Hours of Le Mans.
Kia Soul: Alien Green
The popular Kia Soul crossover is known for its funky colors like Alien Green. When the Korean carmaker first launched the Soul in 2008, it featured a more subdued Green Tea Latte color that eventually evolved into the brighter Alien Green. The Kia Soul is consistently rated as one of the best value for money cars in the compact crossover segment. A 2019 base model only costs $16,490 and the top Exclaim (!) trim starts at $22,990.
Ford Fiesta: Outrageous Green and Bohai Bay Mint
Ford made an announcement last year that took the motoring world by surprise. The automaker decided to focus on SUVs and trucks in the U.S. and drop all but two cars — the Mustang and Ford Focus Active. So if a Ford Fiesta is what you want, you'd better buy one quickly. The Ford Fiesta is still available in 2019 in sedan and hatchback and in two captivating green colors: vibrant Outrageous Green Metallic or the softer pastel-colored Bohai Bay Mint.
Ford Mustang: Lime Green
Mustang fans were probably relieved when they heard that Ford won't be ditching the much-loved pony car. If you are looking for an eye-popping green Mustang, you have plenty of options from old to new. Ford has been producing its iconic Mustang in lime green since the 1960s. The shade of green has changed over the years but the lime green color has endured.
Green may be St. Patrick's favorite color but it's not everyone's cup of tea. However, with the broad range of green colors available for cars, there's a green for every type of personality — from shocking neon green to an understated forest green. Whichever shade of green you choose, a green car is a bold choice. Drive it with confidence!