Dust off that peacoat, grab your 6,000 calorie latte and sound the alarms folks because FALL IS COMING. That's right. It's time for us Texans to get a little taste of what those in the lesser states call a "season.
There's something about fall that gives us all a touch of crazy - but, you know, the fun kind of crazy. We'll refer to this as fall frenzy. Symptoms include: wearing more layers than the weather requires, carving pumpkins in September, meticulously planning your Halloween costume before you even have Halloween plans, cooking everything with rosemary, posting pictures of your fall beverage featuring your flannel sleeve, and last but certainly not least, whipping your car off the interstate because you peeped an especially colorful pile of leaves out of the corner of your eye.
[embed]http://gph.is/1ISxVSg[/embed]
Here at Aceable, we're all about safety on the road so, we'd like to provide you with a detailed list of our top spots to see fall foliage in Texas. Lord knows we can't have you cutting across 3 lanes of traffic to take a leaf-toss boomerang. These things should be planned. We're saving lives here, people. You're welcome.
10. Purgatory Creek
Photo credit: Source
Enjoy one of the best hiking trails of San Marcos as you make your way to the glorious along the beautiful Purgatory Creek. There are easy, moderate, and difficult hiking opportunities and, if Texas decides to be Texas, you could even dip your feet in the water! This foliage pick is a great place to bring your pups and take a stroll!
9. Downtown Fredericksburg
Photo credit: Source
If you don't already know about Fredericksburg, get out from under your little rock and go, go, go. There are fresh peaches, wineries, and tons of German establishments. So, while this may not be your number one leaf spot, as far as downtown goes, you can indulge in all your favorite fall activities like pumpkin patches and Oktoberfest! Grab a beer and some lederhosen and venture into town for some fall frenzy.
8. Downtown Wimberly
Photo credit: Source
The drive out to Wimberly alone will take your breath away. In the heart of the hill country between Dripping Springs and San Marcos, Wimberley sits on windy ranch road 12 flanked by large oak and cedar trees. Its downtown is a tiny array of old shops, backed up to a creek with plenty of restaurant porches to sit on and enjoy the season. Take a drive through its back roads or down Flite Acres to see adorable cabins and beautiful river.
7. Cleburne
Photo credit: Source
Cleburne, Texas is all about fall, Y'all. Their city literally has a "Top Things To Do in The Fall in Cleburne" post on their website. Cleburne is south of Fort Worth off of 171. It's got an adorable downtown, plenty of cutsie trees, a fall market, and more!
6. Leakey
Photo credit: Source
Near the Frio River and Garner State Park in the Texas hill country lies the town of Leakey. This little town got its fall fame from a youtube video that leaked the secrets of its beauty. Since then, folks have been making the trip to marvel at its seasonal beauty from all over. Head over to Garner State Park for the full experience.
5. Daingerfield State Park
Photo credit: Source
This quaint little 500-acre rec area sits just outside of Texarkana. Daingerfield is a beautiful forest just littered with the colors every fall-lover wants and needs. Nothing beats the trees reflecting off the water in the crisp autumn air. Plus, there's fishing, boating, hiking, and camping - oh my!
4. The Piney Woods
Photo credit: Source
Looking for that whole - romantic, zoom down the road with the windows down as yellows, reds, and oranges streak by you - kinda vibe? Look no further than The Piney Woods. The cities of Athens and Palestine Texas host this 145-mile scenic drive on the El Camino Real.
3. Mineola Nature Preserve
Near Tyler, west on US 80 lies Mineola. This Nature Preserve is a friggin dream. We're talking green grasses, colorful expanses of trees, lakes, hiking trails, windmills, cows, picnic areas and more. You can drive through for a peak or take to the trails!
2. McKittrick Canyon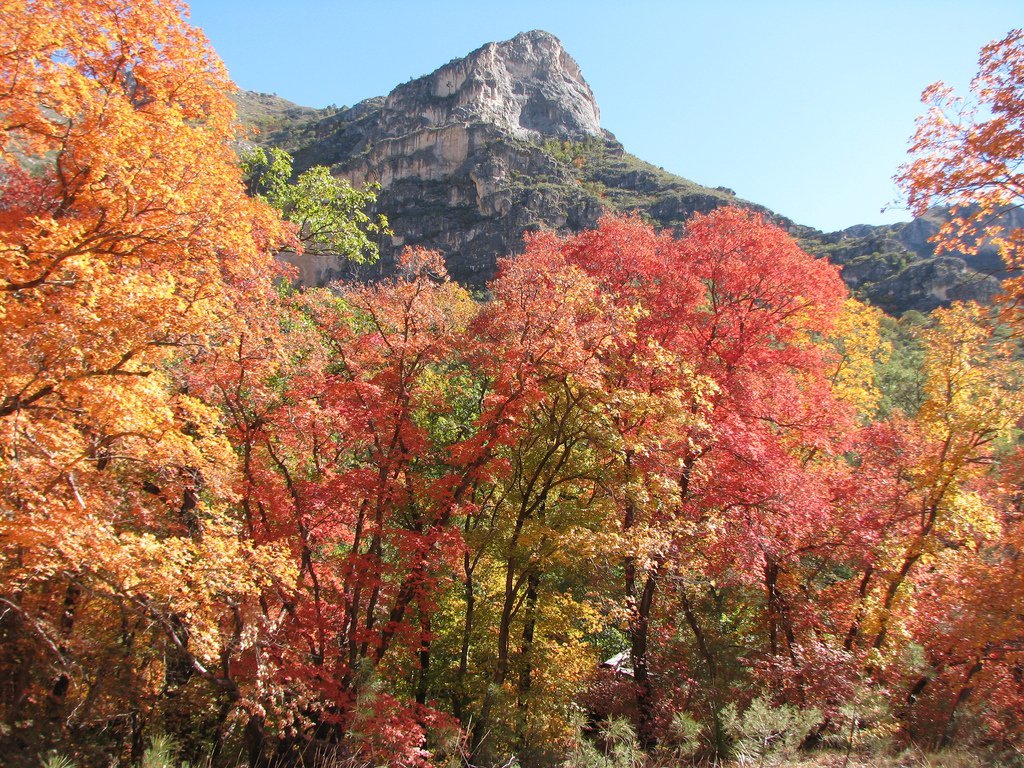 Photo credit: Source
Headed west! In the Guadalupe mountains near New Mexico lies Mckittrick canyon. This spot is a literal oasis of flora and fauna among the Chihuahuan Desert. In the Guadalupe Mountains National Park you'll find the true fall foliage that your witchy soul longs for. With clear streams teaming with rainbow trout and caves to explore, this is the recommended spot for our fall adventurers out there.
1. Lost Maples State Natural Area
Photo credit: Source
Located just outside of Vanderpool is the breathtakingly beautiful Lost Maples State Natural Area. This playground of foliage is near the city of Kerrville, to give you a frame of reference. You can't beat the bright, warm colors you'll find all around out there. Not to mention, BONUS FEATURE, there's a winery just down the road.