We at Aceable Driving love our mascot, Ace, a snarky robot who guides users through our Florida Learners Permit Course . We know just how important Ace is to all our driving course students, so we got curious about their mascots and decided to investigate. With football season in full swing, what better time to take a look at some of Florida's high school mascots and rank the best in the state? While we're biased in thinking that Ace is the greatest mascot around, all these mascots are pretty spectacular, too. Did your school make the cut?
30. South Plantation High School Paladins, Plantation
South Plantation Paladins is a bit of a tongue twister, but this high school's nickname certainly has a nice alliteration to it. The Paladin, which refers to a knight in Charlemagne's court, is also the mascot of Furman University in South Carolina. But in Florida, only South Plantation High School can claim the Paladin name.
photo credit: SouthPlantation.org
29. Tarpon Springs High School Spongers, Tarpon Springs
Tarpon Springs is known as "The Sponge Capital of the World," where sponge diving is a prominent industry and way of life. Greek emigrants settled the city in the early 1900's, bringing with them their knowledge of the sponge trade, their delicious cuisine and vibrant Mediterranean culture. A statue of a sponge diver, or sponger, stands at the Tarpon Springs waterfront. Just don't scoop up Spongebob, you guys.
photo credit: Giphy.com
28. St. Brendan High School Sabres, Miami
The Tiger is a pretty popular choice for school mascot, but the Sabre? Way more unusual, not to mention more ferocious. Sabres, though now extinct, are known for their sword-like teeth that helped them attack massive prey like rhinos and elephants. Vicious.
photo credit: StBrendanAthletics.com
27. Largo High School Packers, Largo
The city of Largo was formerly a citrus packing center, and the nickname Packers derives from this piece of the town's history. While Largo High students go by the Packers, the school mascot is actually a razorback hog. Maybe packing center employees weren't fierce enough.
photo credit: PCSB.org
26. Cornerstone Charter Academy Ducks, Orlando
In pop culture, ducks are often seen as comical creatures (think: Daffy or Donald), but in the world of sports, the duck mascot is no laughing matter. Cornerstone Charter Academy shares this waterbird mascot with winning athletic programs like the University of Oregon, Anaheim NHL team and of course, the fictional Mighty Ducks ice hockey team of the beloved movie franchise.
photo credit: Twitter
25. Charlotte High School Fighting Tarpons, Punta Gorda
The tarpon is a popular game fish in Southern Florida, so it's no surprise that the aquatic vertebrate swam its way into the hearts of Charlotte High students. The school's unique mascot emblem, an upright tarpon donning a sailor hat and boxing gloves, was putatively introduced by the class of 1959, and is proudly displayed on team athletic gear to this day.
photo credit: HalfMileTiming.com

24. J.M. Tate High School Aggies, Cantonment
Tate High was founded in 1878, and an agricultural school was added on to the campus a few decades later. Fast forward to present day, where there is still a focus on farming at Tate. The school has not only has an academy for veterinary science, but also an Aggie for a mascot, which is represented by a horse.
photo credit: Wikipedia.org
23. Colonial High School Grenadiers, Orlando
You know those Buckingham Palace guards who wear tall, fur caps? Yep, that's basically Colonial High School's mascot, the Grenadiers. The highest ranking regiment of infantry in the British Army, Grenadier Guards played a significant role on the battle field in both the First and Second world wars as well as in contemporary military operations. Meanwhile, the Grenadiers at Colonial High have played a significant role in leading the school to many wins on the athletic field.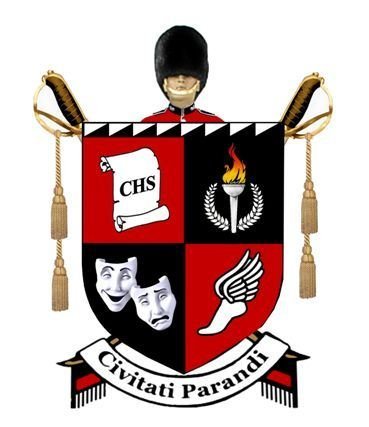 photo credit: OCPS.net
22. The Villages Charter School Buffalo, The Villages
Florida, home where the buffalo roam? Normally when we think of American bison we envision The Great Plains, but there's actually a small number of buffalo ranches in the Sunshine State, too. If you can't see wild buffalo in real-life, though, you can always catch The Villages Charter Buffalo in action at all the school's sporting events.
photo credit: Wikipedia.org
21. Admiral Farragut Academy Bluejackets, St. Petersburg
This St. Petersburg academy was named after Admiral David Farragut, the first-ever admiral in the U.S. Navy. Naturally, the school chose a mascot that would honor his legacy, settling on the Bluejacket, another term for a sailor in the Navy.
photo credit: Farragut.org
20. J.R. Arnold High School Marlins, Panama City Beach
Marlins might be fairly common in the Gulf Coast waters, but they've also intrigued some of the world's most renowned writers. This unlikely literary creature has appeared in works written by the likes of Ernest Hemingway, Frederick Forsyth and Zane Gray. Now, J.R. Arnold is writing its own story as the only high school in Florida to adopt the Marlin as its mascot.
photo credit: Pixabay.com
19. Fort Lauderdale High School Flying L's, Fort Lauderdale
Fort Lauderdale High athletes used to be known as the plain old L's, but legendary track star Charlie Rhodes helped them fly. In 1917, when Rhodes was dominating at the state track meet, a Miami Herald journalist reportedly said, "Look at that L fly." The people of Fort Lauderdale liked the remark so much that they voted the very next week to call all school mascots in the district the Flying L's.
photo credit: FortLauderdaleHigh.org
18. Duncan U. Fletcher High School Senators, Neptune Beach
The longest-serving U.S. Senator in Florida history, Duncan U. Fletcher didn't just lend his name to this Neptune Beach high school, but also his job title. And while his political career is definitely impressive, we might be more impressed by his luxuriant handlebar mustache. Props to any Fletcher High Senator who can grow one similar.
photo credit: Wikipedia.org
17. Christopher Columbus High School Explorers, Miami
Contrary to the image below, these Explorers are not named after Dora, but rather that guy who in 1492 sailed the ocean blue. Though perhaps less fearsome than a tiger or a bear, these Explorers most certainly possess winning qualities, such as determination, resilience and propensity for risk-taking.
photo credit: AnimatedImages.org
16. Seabreeze High School Sandcrabs, Daytona Beach
Just a couple of blocks from the ocean, Seabreeze High School is proud of its crustacean mascot. The name derives from the school's first yearbook in 1908 , known as The Crab. Today, Seabreeze fans frequently rock T-shirts that bear the slogan "The Claw Rules." Indeed it does.
photo credit: Giphy.com
15. Paul J. Hagerty High School Huskies, Oviedo
Oviedo, Florida is far from Siberia, but that didn't stop the folks at Hagerty High from choosing the husky as their mascot. Hagerty shares the husky name with many great athletic programs, predominantly in the north, including the University of Connecticut and Northeastern University. But as far as we know, Hagerty is the only institution in the Sunshine State that pays homage to this sled-pulling canine.
photo credit: Wikipedia.org
14. Osceola High School Kowboys, Kissimmee
The coolest part about Osceola High's mascot? It's named after a real-life cowboy, Otis "Pete" Clemons , who still lives in Kissimmee, Florida today. Clemons was a renowned rodeo athlete who won 10 Florida rodeo championships throughout his tenure as a rider. The Kowboy name comes from a cartoon portrayal of Clemons that was emblazoned on a pickup truck and dubbed "Kowboy Jake."
photo credit: Twitter.com
13. Poplar Springs School Atomics, Graceville
Sports reporters frequently use hyperboles to describe athletes, and such was the case for the writer who came up with the nickname for Poplar Springs School . In 1948, just a few years after the atomic bombs dropped, a journalist for the school newspaper coined the name in an effort to make his team seem dangerous to opponents. We think it's dynamite.
photo credit: Twitter.com
12. Mariner High School Tritons, Cape Coral
In Greek mythology, Triton is son of Poseidon, god of the sea, and like his father, wields a large trident. But Triton's most powerful instrument is not his trident, but a conch shell that allows him to make the waves of the sea rise and fall. Whew. That's a lot of dominion you have, Cape Coral Tritons.
photo credit: Hudl.com
11. Braulio Alonso High School Ravens, Tampa
When it came time for the first-ever students at Alonso High School to help choose a mascot, they knew they wanted something one-of-a-kind. After considering many different choices, students finally settled on the Raven, which they admired for its intelligence, among other qualities .
photo credit: Twitter.com
10. MAST Academy Makos, Miami
Big, strong, deadly and fast -- very fast. That pretty much sums up MAST Academy's unique mascot, the Mako. This Gulf Stream-dwelling shark is not only one of the fastest fish of its kind, it's also one of the fastest-learning. Scientists have discovered that the highly intelligent predator has one of the largest brain to body ratios for its animal group. Maybe that's why the MAST Academy Makos are so doggone smart.
photo credit: Wikipedia.org
9. Key West High School Fighting Conchs, Key West
In Key West, the Conch is more than a seashell, it's a nickname for locals. The sobriquet derives from the Revolutionary War era, when Americans living in the British colony the Bahamas said they would rather eat conchs than pay taxes on food. Well, guess we know where the fighting part comes from -- these Conchs aren't afraid to stand up to the big guys.
photo credit: Wikipedia.org
8. Lemon Bay High School Manta Rays, Englewood
In a state almost entirely surrounded by water, it makes perfects sense that a large portion of high school mascots would be seafaring. But while Florida is home to plenty of Sharks, Buccaneers and Pirates, there's only one Manta Ray. This majestic filter feeder is not only rare in the mascot world, its also rare to see in the wild, and in the last few years has been placed on a protected species list.
photo credit: LemonBayHigh.com
7. Miami Beach High School Hi Tides, Miami
Natural forces make for popular mascots (think: Hurricanes, Thunder and, of course, the Miami Heat). But the Miami Beach High School Hi Tides are in a category all their own. The Southeast Florida school might just be the only institution in the nation to bear the Hi Tide name. Cowabunga.
photo credit: MiamiBeachHigh.SchoolWires.com
6. Sickles High School Gryphons, Tampa
The mythological creature that represents Sickles High School is known for being extremely powerful and having the ability to take many forms. And from what we know, plenty of Sickles High athletes share these same characteristics. In fact, TBO.com once compared a Sickles football player to "the Head Gryphon" -- touting the linebacker for his versatility and strength on the field.
photo credit: Wikipedia.org

5. Miami Senior High School Stingarees, Miami
Boasting a venomous spine and the ability to move at a lightning-fast pace, the stingaree is not to be trifled with. What's more, the deadly fish consumes its prey by smothering them with its disc-like fins before shoveling the victims into its mouth. Ugh. Watch out, rivals of Miami High .
photo credit: MiamiSeniorHigh.org
4. Melbourne Central Catholic High School Hustlers, Melbourne
The rumored origin of this mascot is that it was named after the offensive line for the football team at the University of Maryland. Melbourne Central Catholic's first president was supposedly a huge Maryland Terrapins fan, and believed that all scholar-athletes should "exhibit hustle," just as his favorite football players did.
photo credit: MelbourneCC.org
3. Lakeland Senior High School Dreadnaughts, Lakeland
A dreadnaught is a British battleship, so how exactly did this Central Florida high school earn its noteworthy nickname? In the early 1920's, Lakeland principal and former British solider I.G. McKay told the football team that it played like a dreadnaught, "rolling over the opponents just as a massive ship steams through stormy seas." Today, the school's symbol has a prominent place atop Lakeland resident Andy Matalski's head, who wears battleship-shaped hats of his own creation to all football games.
photo credit: LakelandFootball.com
2. Hialeah High School Thoroughbreds, Hialeah
The city of Hialeah is known for its historic, Mediterranean-style thoroughbred race track, which was built during the Roaring '20s. In its heyday, the racing compound attracted many distinguished visitors, among them Winston Churchill and Harry Truman. Oh, and a bunch of famous horses, like Seabiscuit and War Admiral were there, too. Sounds like you have some pretty big hoof prints to fill, Thoroughbreds.
photo credit: Giphy.com
1. Ridge Community High School Bolts, Davenport
Thunder and lightning are very, very frightening, so it's no surprise that a total of five Florida high schools have one or the other as their mascot. But Ridge Community School students are the only Bolts in the state, adding a little diversity to the storm-themed mascots. We have a feeling that if Ridge Community athletes take after a certain Olympic champion named Bolt, then they are very, very fast.
photo credit: Pixabay.com