There's a whole lot of southern charm in Georgia, especially on the college campuses. Most college-bound students focus primarily on tuition and degree programs. But have you considered what colleges look like?
The college campus has a big impact on quality of life, and can even play a role in those frequent study sessions. Take a look at our picks for the 12 most beautiful colleges in Georgia - it may just help you decide where to apply!
1. Berry College, Mount Berry
Image credit: Source
Berry College is the one and only Georgia higher education institution to make it onto Expedia's list of the most beautiful college campuses. It also took the #3 spot on Architectural Digest's list of the most beautiful colleges in America . Berry College snagged one of the top spots because it has a truly spectacular setting with 27,000 acres and a mountain on campus. That kind of acreage makes Berry College the largest campus in the world. The English Gothic buildings and perfectly placed reflection pools are almost as spectacular as what Mother Nature has created.
2. Abraham Baldwin Agricultural College, Tifton
Image credit: Source
When you're on the Abraham Baldwin Agricultural College campus you have a feeling of being in a lovely, rural town square. As the name suggests, ABAC has a number of programs focused on the outdoors and the environment like Diversified Agriculture and Natural Resource Management. The staff and students are dedicated to preserving natural beauty around the campus and beyond. They also enjoy a campus featuring horse stables, a 200-acre farm teaching laboratory, a nine-hole golf course, and a historic village.
3. Emory University, Druid Hills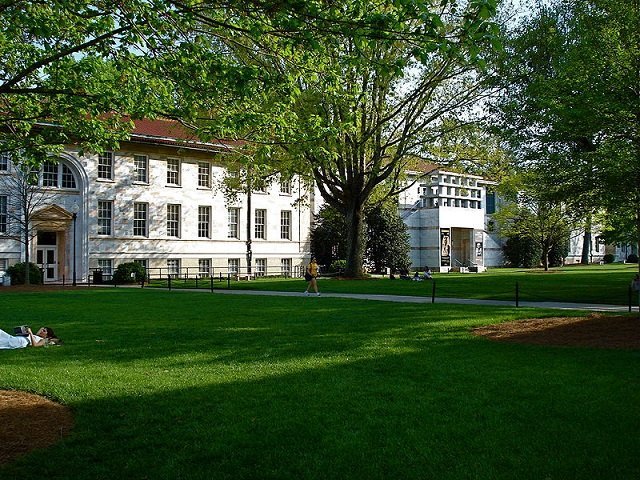 Image credit: Source
Nestled up in the hilltops of Lullwater Preserve, Emory University is off the beaten path, which is a great thing in terms of ambiance and scenery. The grounds include a selection of walking trails and Candler Lake. The campus' white buildings with red roofs are also very distinct. Local architects dreamt up the Tudor and Gothic Revival style in the early 1900s. Many people believe Lullwater House is the most beautiful building at Emory University, but Pitts Theology Library is also impressive and has earned a spot on the National Register of Historic Places.
4. Mercer University, Macon
Image credit: Source
Mercer University has been called one of the most beautiful colleges in the entire south. It's also another Georgia institution that's listed on the National Register of Historic Places. Around campus, you'll see classic examples of Renaissance revival and Greek revival style architecture.
5. Savannah College of Art and Design, Savannah
Image credit: Source
Savannah is a gem of the south with grand historic buildings, Antebellum architecture and stunning river views. Add artistic intellects into the mix and you get the Savannah College of Art and Design (SCAD), arguably the most beautiful college in the state. Although the school was founded in the 1970s and does feature a lot of modern design. Very old structures like the Savannah Volunteer Guards Armory were also incorporated and renovated. As you can imagine, art is everywhere around campus, but the community garden and moss-covered oaks are equally intriguing.
6. University of Georgia, Athens
Image credit: Source
Southern Living is an authority on design and beauty in the south region of the United States. They recently came up with a list of top achievers for campus across the south. Their team determined the University of Georgia was one of the best looking colleges. The school is over 200 years old, and it looks fantastic for its age. Most of the buildings are Georgian-style (naturally). The college's landscape architect, Tom Breedlove, says that the grounds have an abundance of greenery because his team focuses on using Georgia-native plants.
7. Agnes Scott College, Decatur
Image credit: Source
It's easy to see why buildings at Agnes Scott College have been added to the National Register of Historic Places and the school has been called one of the most beautiful campuses in the south. Agnes Scott Hall is the crowning jewel of the college, which features Greek- and Romanesque-style architecture. The massive brick structure has ornate white stonework all around and a beautifully constructed bell tower.
Fun Fact: This small women's liberal arts college is so attractive it's become a hot spot for Hollywood location scouts. Agnes Scott College has been a filming location for numerous films including Oscar-winner  Driving Miss Daisy  and the slasher flick  Scream 2  .
8. Georgia Southern University, Statesboro
Image credit: Source
Georgia Southern University nabbed the #2 spot on Niche's list of the best college campuses in Georgia and ranked 59th in the nation. It came in right behind the University of Georgia with an A rating. Students note that it's a large campus but has a small, intimate feeling with lots of greenery.
9. Covenant College, Lookout Mountain
Image credit: Source
Lookout Mountain is a popular tourist destination in Georgia, and it's also home to Covenant College, one of the most picturesque colleges in the state. As you'd expect, it's position at the top of Lookout Mountain gives the college spectacular views. Around the campus, you can get a glimpse of seven different states. Covenant College is also one of the few places in Georgia where you see Austro-Bavarian Gothic Revival design. It's the distinctive architectural style of Carter Hall, a hotel that was converted by the college to serve as the main administrative building on campus.
10. Kennesaw State University, Kennesaw
Image credit: Source
Kennesaw State University was another top ranking school on Niche's best college campus list. The campus earned a respectable A- rating based on student reviews. Students describe the campus as "genuinely pretty" with buildings and landscaping that are well maintained. The Campus Green is cited as one of the most beautiful spots on campus. It's a large, circular lawn that has been used to create some truly unique aerial shots, like the time students arranged themselves on the green to spell out "KSU."
11. Georgia Institute of Technology, Atlanta
Image credit: Source
The Georgia Institute of Technology (Georgia Tech) may be very small, situated in the center of Atlanta and surrounded by skyscrapers, but it holds its own as a point of interest. The college's entire original site known as the Historic District has been placed on the National Register of Historic Places.
12. Young Harris College, Young Harris
Image credit: Source
It's small and it's private, but Young Harris College has an enviable mountain location in northeast Georgia. In a student poll "beautiful outdoor atmosphere" was the top phrase used to describe the school. It's actually surrounded by three national forests. Hiking from the campus to Brasstown Bald, the highest peak in Georgia, is a popular rite of passage for Young Harris College students.
Want more education in a beautiful Georgian setting? Then check out the 25 most beautiful high schools in Georgia !