A magical transformation occurs in Ohio in the autumn - the changing of the leaves, the crisp air, the gorgeous sunsets. It's the perfect time of year to gather those you love and head outdoors to relish in the wilderness. There are a ton of awesome activities going on this season all over the state. Check out our regional list to plan your next family or friend outing and make the most of this fall!
For events in the Columbus area, check these out:
Branstool Orchards - Utica
Take a day trip 45 minutes northeast of Columbus to enjoy Branstool Farms. Branstool is a 75-acre, you-pick orchard with pumpkins, peaches, apples, and pears. Make sure to call ahead to confirm the day you plan to visit is a picking day, and then make your way out to these beautiful rolling hills.
Photo credit: Source
Freeman's Farm - Galena
Freeman's Farm Fall Festival and Fall Market has arrived! The farm is located in Westerville and sprawls over a beautiful property with woods and a quaint pond. On-site you'll find old-timey farm activities such as apple butter churning, wood fire kettle korn popping, a petting zoo, scarecrow making, and more!
Photo credit: Source
Leeds Pumpkin Farm & Witches Night Out
Leeds Pumpkin Farm is a great choice for family-friendly fall fun including a tractor train ride, a tractor tire tower, and an "iron horse" corral to hop on and take a ride on a pretend pony. But that's not all - this place is a celebration station. We're talking zip lines, pig races, paintball, and more. They even host a ladies night called "Witches Night Out" to benefit breast cancer survivors.
Photo credit: Source
Hitchcocktober Film Series
Film buffs unite! The Gateway Film Center is screening Alfred Hitchcock films all October
Long. This month-long offer isn't for The Birds so grab your Psycho friends, or even just
a Stranger on the Train and don't miss this creepy classics screening series.
Photo credit: Source
Columbus Italian Festival
St. John the Baptist Italian Catholic Church is hosting their annual Italian Festival with a "Taste of Italy" on October 1st and the festival October 5th-7th. It'll be a weekend packed with pasta, Italian musical entertainment, a parade, marching band competition, and plenty of other Italian festivities to soothe your soul. Divertiti!
Photo credit: Source
Those located and around Cleveland will enjoy the following:
47th Annual Hiram House Camp Pumpkin Festival
Hiram House Camp is hosting its 47th Pumpkin Festival with autumn activities, animals, hayrides, and live entertainment. For the rest of the year, the property functions as an adventure camp and retreat location so beautiful scenery and landscape is guaranteed on your day of family fall fun.
Photo credit: Source
Pumpkin Festival & Huron River Art Fest
Join hundreds of attendants at the Huron River for a festival of arts, a marketplace of food and craft vendors and, of course, pumpkins! Be sure to arrive by 2:30 to catch the kick-off, pumpkin drop.
Photo credit: Source
Ohio Mart 2018
The Stan Hywet Hall and Gardens is a gorgeous estate located on N. Portage Path in Akron. The estate hosts an annual fundraising event and artisan showcase called Ohio Mart. Enjoy the onsite pub, food court, merchant vendors, and a healthy dose of the gorgeous outdoors.
Photo credit: Source
Cleveland Beer Week
Cleveland beer week is the amalgamation of dozens of special events and booze deals at bars, breweries and local restaurant in Cleveland. This special series of tastings, pairings, tappings and more is designed to bring awareness to the craft brewery scene. The week of brews will also feature flagship events which benefit the Malone Scholarship Fund.
Photo credit: Source
Boo at the Zoo
Grab the whole family and make your way to the Cleveland Zoo October 12-14, 19-21, and 26-28 for Boo at the Zoo! Attractions include treats, train rides, a hay maze, a 4D movie theatre, the monster mash dance party, and more! Not to mention all the fun and exciting animal exhibits.
Photo credit: Source
And for those of you in Cincinnati:
Ohio Renaissance Festival
This fall in Harveysburg, the town transforms into a land of kings and queens, pirates and barbarians at the Ohio Renaissance Festival. Each weekend has its own theme so check the schedule to catch your personal favorite of the adventures at hand. Come out and enjoy live, age-old entertainment, food, drink, merchants, markets, and more.
Photo credit: Source
Brumbaugh Fruit and Fun Farm
A drive outside the city but well worth the trek lies Brumbaugh Fruit Farm. This farm
specializes in groups and field trips so it's sure to pack a punch of fun. With apple
picking, pumpkins, games and activities, and fall desserts (including cider slushies!)
Brumbaugh is your go-to spot for an orchard experience this fall.
Photo credit: Source
Sunflower Festival at Gorman Heritage Farm
Gorman Heritage Farm is hosting the Sunflower Festival in Cincinnati. This is more than just a flower fest you guys, we're talking live music, hay rides, a corn maze, farm animals, and yes, you can pick your own sunflower. Get your tickets now for October 6th and 7th and don't miss the all-day, weekend bash!
Photo credit: Source
Trammel Fossil Park
Are you or your kids interested in history, paleontology, or perhaps just love a good opportunity to roll up those sleeves and get a little dirty? Then a dig at Trammel Fossil Park is a perfect way to spend your beautiful fall day outside. Make sure and bring your own tools.
Photo credit: Source
Ohio Sauerkraut Festival
This year, Waynesville is hosting their 49th annual Sauerkraut Festival. Over 460 vendors will line the streets with sauerkraut snacks, arts, and goods. Come to enjoy a day or two of shopping, eating, and live entertainment, all benefitting local charity, and civic groups.
Photo credit: Source
And for you Akron-area dwellers:
30th Annual Norton Cider Festival
The Norton Cider Fest is a weekend packed with events at Columbia Woods Park. From the opening ceremony to the closing hometown bluegrass band, you can be sure to find craft music and even firework shows. There will be apple decorating competitions, food and drink, and even a parade!
Photo credit: Source
Atwood Lakes Fall Festival
The first weekend of October is always jam-packed with amazing events, one of which is the Atwood Lakes Fall Festival. Not only does this fest take place in a beautiful setting, but there are also tons of exciting attractions to check out. The festival includes food, music, homemade crafts, hands-on displays, entertainment, interpretive demonstrations, and exhibits. Bring your portfolio along and participate in the photo contest or bring dad along and drool over the hot rods at the 2018 car show.
Photo credit: Source
Ramseyer Farms Fall Festival
Ramseyer Farms is a fifth-generation, family-owned farm in Wooster, Ohio. In addition to harvesting pumpkins, wheat, corn, popcorn, and soybeans, they host an annual Fall Festival. This fest hosts a list of activities and games too long to list. If there's any way you can spend a whole day at Ramseyer, don't think twice. This amazing farm can help you knock out every single fall activity you love, all in one place.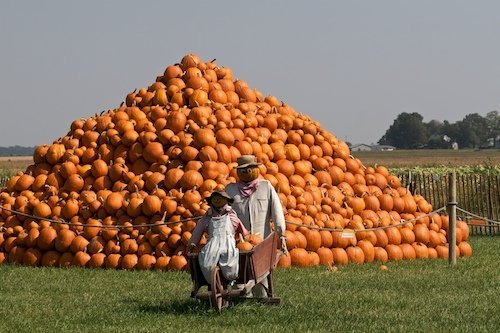 Photo credit: Source
Hike Summit County's Metroparks
Looking to hit the great outdoors, breath in the fresh air, and get your blood pumping? Explore one of Summit county's 16 developed parks . With over 125 miles of hiking trails, your sure to find the hike that meets your ideal level of difficulty and scenery preferences.
Photo credit: Source
Horseback Riding at Bochum Farm
The fall is a wonderful time to do something adventurous! It's a time of change, transformation, and renewal. Push yourself to learn a new skill, connect with nature and animals, and face your fears and trepidations with horseback riding lessons at Bochum Farm. They offer lessons for all ages at their beautiful equestrian center.
Photo credit: Source
Dayton events include the following:
Halloween at the Park
Wind through the Gooding Addition trail at the Park District Headquarters of the Bellbrook Sugarcreek Park District for their annual Halloween at the Park. Local craft, food, and drink vendors will be on site for you to enjoy! Peruse the pumpkin patch, sit in on a spooky story and, of course, sport your best costume for the costume contest!
Photo credit: Source
CFC Pumpkin Chuck
Carving pumpkins is overrated. Join the people of Dayton in their 12th annual pumpkin CHUCK instead! In addition to the chucking, expect to find pie baking contests, pie eating contests, a food truck rally, live music, and activities for the kiddos.
Photo credit: Source
McMonigle Farms Pumpkin Fest
Middletown Ohio is home to hayrides, u-pick pumpkins, mazes and more; and it's all going down at McMonigle Farm's Pumpkin Fest. The festival opens October 6th and runs every Saturday and Sunday throughout the month of October.
Photo credit: Source
Champaign County Balloon Fest
Don't Miss the Hot Air Affair that is Champaign County's annual Balloon Fest. Watch hot air balloons launch into the air each afternoon while enjoying food and drinks, family activities, and watching or competing in the pizza eating competition.
Photo credit: Source
PhilharMonster Halloween Concert
The Dayton Performing Arts Alliance is hosting the PhilharMonster Halloween Concert Saturday, October 30th in the Mead Theatre at the Schuster Center. Musicians in costume will play a night of spooky musical entertainment, complete with pre-concert activities, a costume contest, face painting, and more.
Photo credit: Source