To say that California is a beautiful state is an understatement. As many residents will tell you, people pay a premium to enjoy the natural beauty that's unlike anywhere else in the world. And dozens of colleges across California make full use of it at their campuses.
In no particular order, here's a closer look at the California colleges that are considered to be among the most beautiful in the country.
1. Stanford University, Palo Alto
Image credit: Source
California's most prestigious ivy league college offers more than academic street cred. It's also considered to be one of the most beautiful campuses in the U.S. The mile-long palm-lined drive that leads up to the main quad alone qualifies the college for our list. In 2018 Stanford was also ranked #4 in the Architectural Digest list of the 50 most beautiful colleges.






2. University of California, Santa Cruz
Image credit: Source
The University of California has a number of beautiful campuses (keep reading), but the Santa Cruz campus is often considered the most impressive. There's plenty of beauty to explore across the 2,000-acre campus, including the caverns of Porter Caves.






3. University of San Diego, San Diego
Image credit: Source
Sitting atop a cliff, the University of San Diego's breath-taking Spanish-style Immaculata Church can be seen for miles. It's the most prominent of many Spanish Renaissance structures around campus. The school took home the coveted #1 spot on Princeton Review's Most Beautiful Campuses list in 2018 with a perfect score and has been rated 6th for 2019.








4. University of California, Berkeley
Image credit: Source
UC Berkeley literally has endless views of the Golden Gate Bridge, which is one reason it earned recognition from Architectural Digest. Another unique aspect you can't find at all California colleges is foliage that changes with the season. UC Berkeley is covered in colorful foliage during the fall.








5. University of California, Los Angeles
Image credit: Source
UCLA is famous for a lot of things, including having an enviable location in Bel Aire. If you tire of marveling at the Milan-inspired Romanesque Revival architecture you can check out 70 pieces of artwork at the Franklin D. Murphy Sculpture Garden.








6. University of California, Santa Barbara
Image credit: Source
That's right - another University of California campus has made the list. UC Santa Barbara isn't just on the Pacific Ocean, it's surrounded by it on three sides. Needless to say, the campus includes its own beach as well as a sparkling lagoon and hiking trails when you want to unwind after a study session.




7. Scripps College, Claremont
Image credit: Source
This women's college is known for providing a stellar education and having a beautiful campus. The abundance of fruit trees, gardens, and park-like main quad landed Scripps at #12 on Princeton Review top 20 most beautiful college campuses. Scripps College has also been highlighted as one of the best campuses by Travel and Leisure magazine.








8. Sonoma State University, Rohnert Park
Image credit: Source
Sonoma State University is all about preserving the beauty of the nature around the campus, which has three lakes. The university has focused on constructing super energy efficient buildings in diverse styles from modern to traditional.








9. Pacific Union College, Angwin
Image credit: Source
The picturesque mountain landscape around Pacific Union College makes the campus look like it could be a ski resort without the snow. Students can't go skiing, but they do enjoy miles of hike and bike trails as well as views of Napa Valley.










10. California State University, Long Beach
Image credit: Source
California State University has a pyramid that would be envied in Egypt. It's one of the most iconic features of this pedestrian-friendly campus. Other attractions include majestic fountains, highly-rated restaurants and the largest Lego piece in the world.








11. California Baptist University, Riverside
Image credit: Source
California Baptist University has been named one of the top 10 most beautiful Christian schools in the country. Niche also gave the university high marks for its campus based on student reviews. Makes sense when you tour the pristine grounds and buildings that feature Mission Revival architecture.










12. Pepperdine University, Malibu
Image credit: Source
Basically anywhere in Malibu is guaranteed to be beautiful. As Conde Nast Traveler magazine notes Pepperdine University is a great place to take in the views. Students get to stare at the Pacific Ocean to their heart's content while strolling the perfectly landscaped campus.








13. University of the Pacific, Stockton
Image credit: Source
Unlike campuses in the southern portion of the state, the University of the Pacific is covered in towering pines and deciduous trees. The 175-acre campus is covered in a variety of vegetation and flowers. It's the perfect backdrop for the stark white Burns Tower.










14. Santa Clara University, Santa Clara
Image credit: Source
Santa Clara University's campus as a unique blend of Mission-style architecture that's studded with silver domes. Newer buildings are cutting edge and the student activities center has earned LEED Gold certification.










15. San Diego State University, San Diego
Image credit: Source
The University of San Diego may get props for being beautiful, but San Diego State University also has an attractive campus that makes full use of the city's perfect weather. The university just got voter approval to significantly expand the campus with picturesque park settings around their new sports stadium.










16. Occidental College, Los Angeles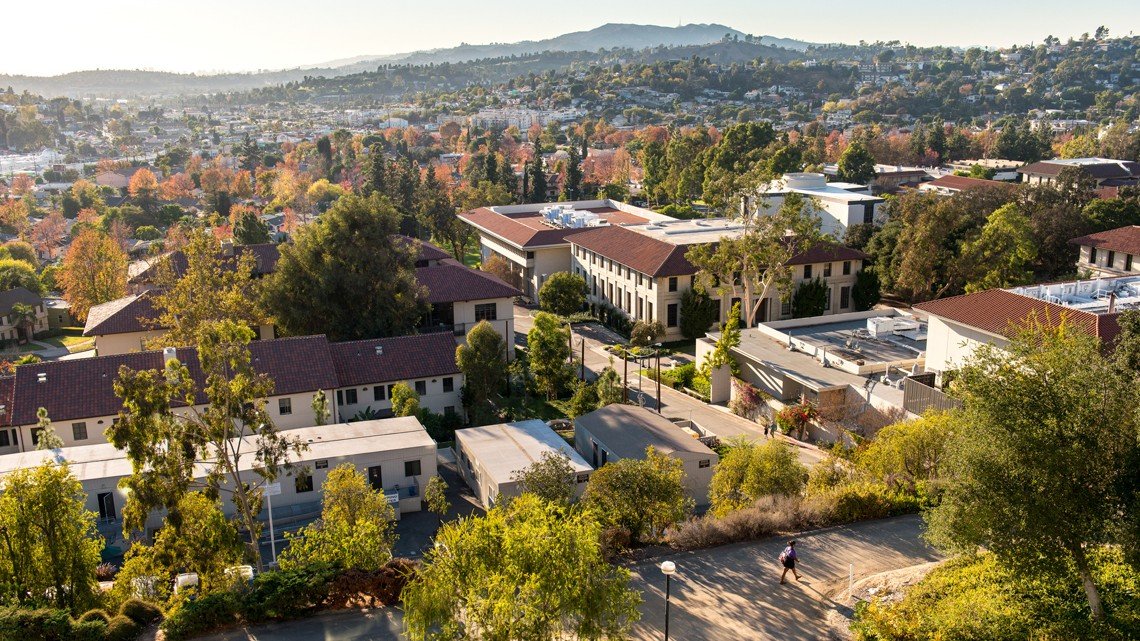 Image credit: Source
Occidental College is a prime example of Mediterranean architecture. Many of the buildings are over 100 years old but still beautifully maintained. Of course, being in L.A. new and old structures alike are surrounded by a lush landscape that looks fabulous year round.








17. University of Southern California, Los Angeles
Image credit: Source
The University of Southern California is another college that made Conde Nast's list of most beautiful campuses. With its weeping willows and red brick buildings, the campus is reminiscent of the east coast more than the west coast. However, the Mediterranean architecture surrounding the massive Cinema School courtyard reminds people they're still in sunny California.










18. Point Loma Nazarene College, San Diego
Image credit: Source
The location alone perched on cliff sides overlooking the Pacific Ocean make the Point Loma Nazarene College campus special. But if the ocean vistas aren't enough to wow you maybe the 115+-year-old Greek amphitheater or the amethyst dome of Mieras Hall will.










19. Thomas Aquinas College, Santa Paula
Image credit: Source
Set within the hills of Santa Paula, Thomas Aquinas College lives up to its motto "The True, The Good, The Beautiful." The Lady of the Most Holy Trinity Chapel at the center of campus is definitely the standout feature being that the gorgeous structure has been blessed by not one but two popes.










20. Loyola Marymount University, Los Angeles
Image credit: Source
The students at Loyola Marymount University are living the California dream. The university was recently named the 10th most beautiful campus by the Princeton Review, and it's well known that the student body enjoys the outdoors when they aren't in class. They get to soak up the southern California weather and Spanish Gothic-style architecture of stunning buildings like the Sacred Heart Chapel.
Want to see more impressive campuses in California? See some of the best of secondary education facilities on our list of the most beautiful California high schools.