When you're thinking about college the appearance of the campus may not be the top priority, but it's something worth considering. After all, you'll be spending a lot of time on campus so you might as well be surrounded by beautiful scenery.
Texas has hundreds of colleges that are just as diverse as the landscape you'll see driving across the state. Which ones get the highest grade for their appearance? Let's find out!
1. University of Texas, Austin
Image source: The University of Texas at Austin
We'll start with the most notable university in the state, which also happens to be among the most beautiful. Not far from the capital you'll find the iconic University of Texas (UT). UT is one of the largest colleges in the country, but the school does a great of keeping every square foot well maintained.
The rust-colored brick facades of the buildings and large oaks give the campus a timeless elegance. One of the most distinctive features is the UT Tower. It soars 307 feet tall and can be seen for miles when it's lit up burnt-orange for special occasions.


2. Baylor University, Waco
Image source: Baylor
In 2018 Baylor University was one of three Texas schools to make it onto Architectural Digest's list of the 50 most beautiful colleges . It earned a spot on the list largely because of the grand Georgian-style buildings. Baylor University also has the distinction of being the oldest college in Texas, and there are plenty of gorgeous historic sights that highlight it's age. The nearby Brazos River adds to the attractive landscape while also serving as a "sailgating" spot during football season.








3. Texas A&M University, College Station
Image source: Texas A&M University
At 5,200 acres there's a lot of beautiful scenery around the Texas A&M University campus. The most noteworthy building by far is the prestigious George Bush Presidential Library.












4. Rice University, Houston
Image source: Houston Chronicle
If you're considering a private 4-year college put Rice University on your short list. The college has a renowned architecture department so it comes as no surprise that there are some beautiful buildings on campus. The architectural styles range from Byzantine to Romanesque, however, there's a primarily Mediterranean feel. It's the perfect vibe for the warm, humid Houston climate during the spring semester.










5. Southern Methodist University, Dallas
Image source: SMU
Southern Methodist University may not be as high-profile as other Texas colleges, but its beauty is undeniable. It was the highest ranked Texas school on Architectural Digest's list of most beautiful colleges coming in at #26. It's also been ranked #2 for campus beauty by Princeton Review.
Buildings like Dallas Hall look more like they belong in Washington, D.C. than a college campus. Many of Southern Methodist University's Georgian-style buildings are framed by lush green grass and park-like landscaping.


6. St. Edwards University, Austin
Image source: StateUniversity.com
Down the road from UT is the fourth oldest college in Texas. St. Edwards University is small but it's big on architectural style and design. Its Catholic beginnings can be seen in the stonework, soaring facades, and decorative windows.












7. Sam Houston State University, Huntsville
Image source: The Best Schools
If you like to hike and clear your mind out in nature you'll gravitate towards Sam Houston State University. There are lush trees throughout the campus and the surrounding forest. They pair quite nicely with the ornate clock tower and fountains. Plus, Huntsville State Park is a short drive away.








8. Texas State University, San Marcos
Image source: Aecom
Too often Texas State University sits in the shadow of UT, which is a shame because it's a truly beautiful campus. The school is known for forensics research, but you're more likely to see impressive landscaping than excavating. Like Baylor, a river winds through Texas State University into the picturesque Sewell Park at the east edge of the campus.






9. Trinity University, San Antonio
Image source: Niche
You'd never guess how old Trinity University is given the modern look and feel of the campus. The university was established in 1869, but it has undergone a number of renovations over the years. The award-winning buildings have an edgy, urban appeal, although the historic architecture still shines through.








10. Texas Christian University, Fort Worth
Image source: What2Do@TCU
Texas Christian University is another historic college that's been updated to reflect modern-day design. It's very much a reflection of Fort Worth with its clean promenades and classic Texan architecture. The campus has 16 new and renovated buildings that have received Gold or Silver certification through the U.S. Green Building Council's LEED program.












11. University of North Texas, Denton
Image source: Glassdoor
Green initiatives have actually influenced the University of North Texas campus beyond energy efficiency. Stroll through the grounds and you'll find attractive features like wind turbines and rooftop greenhouses.










12. Sul Ross State University, Alpine
Image source: TSUS
When three state parks and three national parks are a short distance away from a university, you know the campus setting is going to be spectacular. That's definitely the case at Sul Ross State University. From a distance, you'll spot the distinctive orange buildings that look like they're part of the stunning sunsets.










13. Texas Tech University, Lubbock
Image source: Pinterest
If you enjoy Spanish Renaissance architecture you probably consider Texas Tech University the most beautiful campus in the Lone Star State. It's been deemed one of the most attractive college campuses west of the Mississippi, and many of the buildings are on the National Register of Historic Places.










14. University of Texas at El Paso, El Paso
Image source: Unipupil
Out in the far western edge of the state, you'll find an entirely different setting at the UT El Paso campus. The leadership has taken steps to ensure new construction like the 15,000 square foot interdisciplinary teaching and research building blend in with the natural desert terrain. Many of the existing buildings feature distinctive Bhutanese architecture.








15. Angelo State University, San Angelo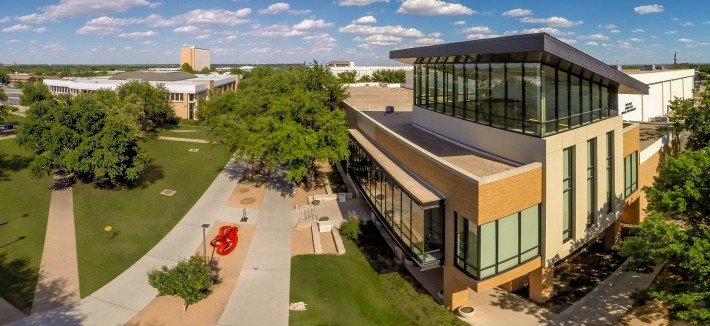 Image source: ASU
The relaxing campus mall with its rows of trees is something every student and visitor takes note of at Angelo State University. Actually, all of the buildings are surrounded by greenery, which creates a peaceful atmosphere. Soon the new 31,000 square foot ASU Museum will be a campus highlight. The design of the massive $14+ million facility is thoroughly modern and will replace two portable buildings that don't add much to the charm of the Angelo State campus.
Looking for the most beautiful high schools in the state? Check out our list of the 25 most beautiful high schools in Texas .