We've ranked the most beautiful campuses in California , but today we're bringing you the biggest schools in the state. For the record, all of these schools are impressively large and if it was up to me, they would all be #1.
Note: All enrollment data comes from the National Center for Education Statistics .
20. Vista Murrieta High School (Tie)
There are 3,456 Broncos roaming the hallways of Vista Murrieta High School. The sprawling campus in Murrieta, California opened in 2003 and has been a bastion of the community ever since.
20. Upland High School (Tie)
Tied for 20th place is Upland High School with 3,456 Highlanders roaming the hallways.
18. Etiwanda High School
3,458 Eagles are stretching out their wings, preparing to take to to the skies at Etiwanda High School.
17. Rancho Cucamonga High School
Coming in at 4 more students than Etiwanda, the 3,462 Rancho Cucamonga Cougars are the 17th biggest student population in California.
16. Chaffey High School
With 3,530 students, not only is Chaffey High School one of the biggest schools in the state by student body size, it's also one of the biggest by campus area, taking up a spacious 65 acres.
15. Lakewood High School
The Lancers are 3,553 strong. Lakewood is not only the alma mater of a number of professional baseball players, it is also coincidentally the architectural twin of Milikan High School, which – spoiler alert – appears later in this list.
14. Great Oak High School
Established in 2004, Great Oak High School has 3,621 registered students. Located at the base of the beautiful Wolf Valley, Great Oak is also the alma mater of former The Voice contestant Xenia. Image
13. Santiago High School
Since 1995, Santiago High School has been cranking out Grade-A graduates. The current enrollment of 3,692 is good for 13th highest in the state.
12. Fountain Valley High School
With 3,704 students, Fountain Valley High School is the 12th biggest high school in the state, and the former school of actress Michelle Pfeiffer. But the best fact about Fountain Valley High School? The Fountain Valley drumline and band was featured in the Gwen Stefani music video for "Hollaback Girl."
https://www.youtube.com/watch?v=Kgjkth6BRRY 11. Millikan High School
Ah, yes, the architectural twin of Lakewood High School. Named after the Nobel Prize-winning scientist Robert Andrews Millikan, Millikan High School boasts a whopping 3,753 students.
10. Warren High School
Coming in at #10, is Warren High School with 3,812 students. The Warren High School Bears are California through and through. Not only do they match the official state colors and state mascot, but the school is named after one of California's most popular governors and Chief Justice of the Supreme Court, Earl Warren.
9. Eleanor Roosevelt High School
Go Mustangs! Located in Eastvale, the 3,686 students at Eleanor Roosevelt High School make up the 9th biggest student body in the state!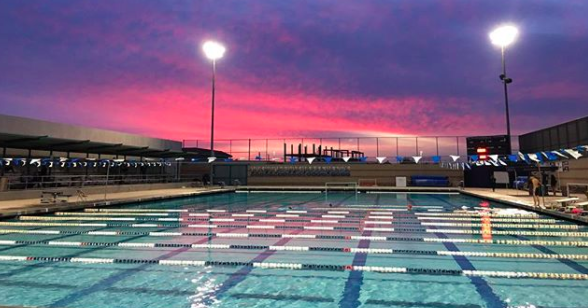 9. El Camino Real Charter High School
Another tie! El Camino Real Charter High School has 3,686 students just like Eleanor Roosevelt High School! That's crazy! They also have a campus designed to look like a small college and a ton of famous alma mater including Tiffany Haddish and America Ferrera.
7. James Logan High School
Coming in at number 7, James Logan High School with 3,912 students. In addition, James Logan High School has the distinction of being the only high school on this list from Northern California.
6. Woodrow Wilson High School
Not only does Woordrow Wilson High School have 3,944 students, but they have also had an athlete compete in every Summer Olympic games since 1952. Totalling 38 different Bruins. That is insane!
5. Central High East Campus
Central High School first opened up in 1922 with almost 100 students. Now it has 4,160 students, which is good enough to make it the 5th biggest school in California. That a-way Grizzlies!
4. Downey High School
Downey's first graduating class way back in 1904 was whopping 4 students. Today that number has increased a bit and there are 4,230 students roaming the hallways of Downey.
3. Long Beach Polytechnic High School
Long Beach has its fair share of big schools, but Polytechnic High School is the biggest with 4,464 students. Poly also has one of the most impressive lists of notable alumni, including Billie Jean King, Snoop Dogg, and Cameron Diaz.
2. Granada Hills Charter High School
The former home of NFL legend John Elway, Los Angeles' Granada Hills Charter High School is actually the largest charter school in the country with 4,650 students.
1. Paramount High School
Paramount High School is massive. And with 4,814 students, it's the largest public high school in California.