The world has a rich history of harvest celebrations and we certainly aren't about to stop the tradition. Whether you enjoy food, art, live music, nature, being scared silly -- or all of the above -- there are plenty of memories to be made all across California. There's truly something for all ages, whether a resident or visitor to the great state. Check out our list of 25 fall activities you have to try.
For events in the Los Angeles area:
Alpine Village's annual Oktoberfest
Photo credit: Source
This year marks the 50th anniversary of Oktoberfest in Alpine Village. They host the "oldest and largest" Oktoberfest in L.A. where you can attend now through the end of October. Sing and dance to traditional German music while sipping on Paulaner beer and munching Bavarian goodies. They even offer a family-friendly day once a week!
Halloween and Mourning Tour in Montecito Heights
Photo credit: Source
This time of year brings out a curiosity for the past, hauntings, and traditions like no other. For those of you with an interest in history or a fascination with death and ceremony, the Heritage Square Museum is a great place to check out. They do an entire exhibit on 19th-century mourning etiquette, the Spiritualism movement, and Victorian clothing. And for those especially enamored with the dead, you can also have your fortune told or take place in a funeral at a historic home.
Mr. Bones Pumpkin Patch in Culver City
Photo credit: Source
Mr. Bones is more than just a pumpkin patch, it's a spectacle. This is a family friendly, family owned patch that has been operating since 1987. The patch itself is surrounded by houses made of pumpkins, creating an interactive experience designed by the same man who designed Universal's "Back to the Future the Ride." The patch hosts special events and entertainment for all who enter to enjoy.
Big Horse Corn Maze and Harvest Festival
Photo credit: Source
Big Horse Corn Maze and Harvest Festival in Temecula California lies on what was once a bustling farmland. Since modernization and industry transformed the surrounding land over the years, Big Horse has maintained its old-timey charm, still operating as a feed store and agriculture center year round. However, in the fall, this plot of land becomes a mecca for seasonal fun and games. The large corn maze takes anywhere from about 45 minutes to an hour and a half to navigate. They also host a variety of festival fun to get in to, depending on your day of attendance, ranging from car shows to old-fashioned farm days to BBQ grill outs!
Camping in Angeles National Forest
Photo credit: Source
Angeles National Forest is located around the San Gabriel and Sierra Pelona Mountains. This area includes the San Gabriel Mountains national monument, recreation areas, campsites, hiking trails, and innumerable breathtaking sights to behold in the height of the forest's colorful vibrancy.
For events in Orange County:
Knott's Scary Farm
Photo credit: Source
Known throughout the rest of the year as Knott's Berry Farm, the "Scary" Farm is a 160-acre theme park in Buena Park. The park completely transforms its theme to nothing but spooks and scares with special "sinister shows" and mazes. Rides, haunted houses, food, drink, and entertainment all roll up into one special treat here for the cost of a single day pass! Get your friends together and be sure to plan out a day of screams at the farm.
Old Tyme Fall Festival
Photo credit: Source
Once a year, Buena Park in Orange County hosts the Old Tyme Fall Festival. As the flyer boasts, it will be a day of games, crafts, food, and entertainment for the whole family to enjoy. This is a great event to bring the little ones to and get them excited about the season. Sit and watch the Ballet Folklorico or browse the many booths of Halloween vendors.
Irvine Park Railroad Pumpkin Patch
[embed]https://youtu.be/h59O_QG4Jlg[/embed]
Train rides, pony rides, AND paddleboard rentals all in one spot? Sign me up. You can find all of these attractions and more at the Irvine Park Railroad Pumpkin Patch this fall. Pick out your favorite pumpkin, pan for gold, play games, explore their on-site haunted house and get your face planted at this adorable event. Then head home and carve up pumpkins with your favorite people.
First Thursday Art Walk in Laguna Beach
Photo credit: Source
The First Thursday Art Walk is a monthly event held year round in Laguna Beach. If you've never had the opportunity to check it out, the next few months are an awesome time to do so given the beautiful weather and fall foliage that's now upon us. This event is free to the public and includes art in many forms, from gallery paintings to performances.
Discovery Cube's annual Pumpkin Launch
[embed]https://vimeo.com/239676744[/embed]
When I say PUMPKIN you say LAUNCH! And by launch, I don't just mean the beginning of a new season. We're talking big round pumpkins flying through the air! Discovery Cube at Cal State Fullerton is chucking pumpkins through the air using giant trebuchets for your enjoyment. As if that's not enough to get you there, there are also hands-on activities, a pumpkin carving contest, and food trucks on site.
San Diego area events include:
San Diego Beer Week
Photo credit: Source
Beer lovers unite for this wonderful ten-day span of celebrating brews, put on by the San Diego Brewers Guild. Each day from November 2nd to 11th has new beer-centric events to enjoy. Buy tickets to the Guild Fest, sip and relax in the beer garden or try out breweries old and new.
Trick or Trot 5k
Photo credit: Source
The San Diego Trick or Trot 5k is an awesome way to work off all the beer and sweet treats that come with the season while spending some time in the crisp fall air with friends and family. Make your way through Morley Field and Florida Canyon on the edge of Balboa Park, dressed in your favorite costume and who knows, you may even win the prize for best dressed.
The Haunted Trail of Balboa Park
Photo credit: Source
This haunted Trail is Balboa Park like you've never seen it! This mile-long journey twists and turns through gnarled oak trees, crawling with haunted creatures just dying to give you the fright you've been longing for this fall. This year's theme is horror icons which means you might meet some of your favorite horror films stars out there in the woods (children 10 and up only).
The Great Annual Pumpkin Festival
Photo credit: Source
Every day throughout the month of October you'll have the chance to check out The Great Pumpkin's Annual Festival at The Children's Nature Retreat. This festival includes a pumpkin patch, competitions, a 6-foot hay maze, and more.
Boomont and Fall Fest
Photo credit: Source
The San Diego area offers one more awesome fall fest worth mentioning and that's Boomont! Looked in Belmont Park, Boomont brings the season to life throughout the amusement park. Get your thrills and chills at this awesome beachfront spot until the end of October.
And if you find yourself in the Bay Area:
California's Great America Great Pumpkin Festival
Photo credit: Source
California's Great America puts on The Great Pumpkin Festival select weekends throughout the season. Come out and enjoy Halloween activities for the whole family: trick or treat with the Peanuts, make your way through the corn maze, decorate pumpkins and more.
Spiny Lobster Season at New England Lobster Market and Eatery
Photo credit: Source
Fall means more than just pretty leaves and cool weather in the Bay area - it also means the official beginning of spiny lobster season. If you enjoy the delicacies of fine seafood, there's no better time and place to get your grub on than spiny lobster season and the renowned New England Lobster Market and Eatery.
Petaluma Pumpkin Patch and Corn Maze
Photo credit: Source
If you're looking for a more quaint, traditional pumpkin patch experience, look no further than the Petaluma Pumpkin Patch and Corn Maze. This popular roadside attraction believes firmly in the benefits of "agro-tainment" and "agritourism". The farm animals, large maze and patch will give you that hometown, community feel. Bring friends and family alike to enjoy a beautiful day outside in Petaluma.
The Grand National Rodeo
Photo credit: Source
It's that time of year again and the rodeo is back in town! The Grand National Rodeo runs October 12th-13th and 19th-20th in Daly City. Tickets are already on sale to see the horse shows, livestock shows, and rodeo games. You can also get your shop on, eat fresh BBQ, and dance the night away to live music.
Hardly Strictly Bluegrass Concert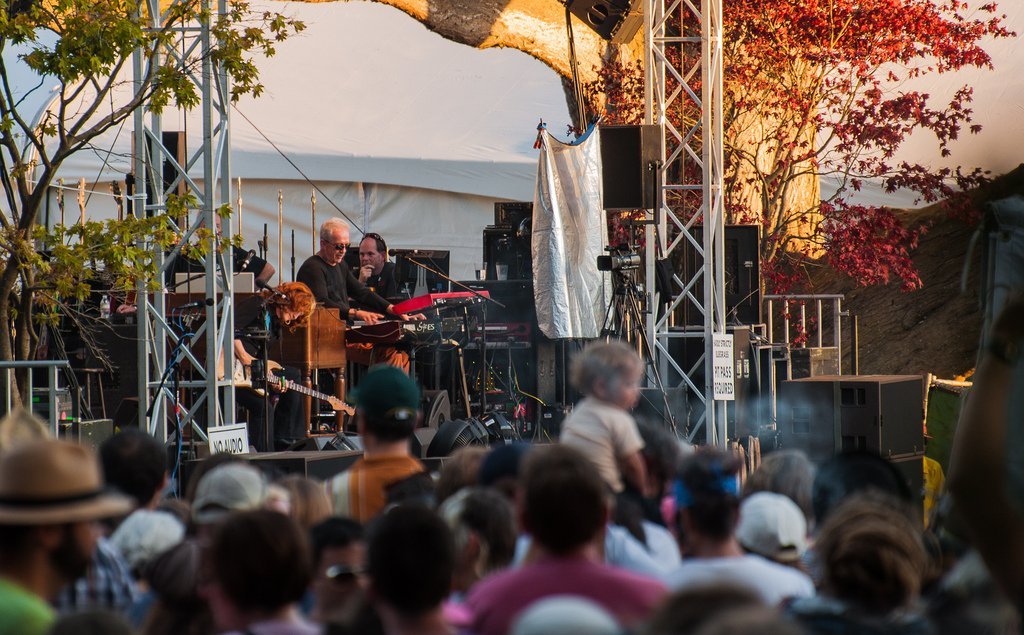 Photo credit: Source
The Hardly Strictly Bluegrass Concerts in Golden Gate Park are rated one of the top activities of the season in San Fran. Each year, the park puts on this free festival with a large line up of amazing artists. Bring a blanket and cooler and post up on the grass for a weekend full of music and good times, October 5-7.
Northern California residents and visitors can enjoy the following.
Pismo Beach's annual Clam Festival
Photo credit: Source
Pismo Beach's annual fall festival is not your average pumpkin patch and corn maze. This fest is all about the clams! Get your tickets now for three days of shucking and slurping on Pismo Beach and plan on a wine walk, live music, and more clam dishes than you could've ever imagined.
Half Moon Bay Art & Pumpkin Festival
Photo credit: Source
Located in the coastal community of Half Moon Bay, this annual art and pumpkin festival is one for the books. Artisan carvers compete with mind-blowing carvings on massive pumpkins for the public's enjoyment. This festival may just be our all-time favorite on the list with the crazy features it boasts, like pie eating contests, a great pumpkin parade, arts and crafts, food, costume contests, and some of the largest gourds alive on display.
The Lights Festival
Photo credit: Source
In mid-December, the beauty of community and celebration come together in one spectacular luminarium event known as the Lights Festival. The Light Festival itself, when attendees launch thousands of sky lanterns up, up and away is only half the fun. Partake in the sharing of dreams, setting of goals, live music, local artists, and vendors that The Lights Festival has to offer.
The Sandhill Crane Festival
Photo credit: Source
Once a year, at the end of their long migration, the beautiful sandhill cranes descend into the wetlands of Loti. The community celebrates the beauty of the seasonal cycle with the Sandhill Crane Festival. Join thousands of visitors in watching the cranes return while you enjoy local vendors, artists, and an opening ceremony dinner.
Backpack in Mendocino National Forest
Photo credit: Source
If you're seeking a weekend away in solace to enjoy the season the way mother nature intended, pack up the truck and head to a campsite in the Mendocino National Forest. This 913,306 acres of flora and fauna are located in Willows California and offer much more than just a plot to pitch your tent in. There are enough recreation areas, hiking trails, and fishing spots to fill any nature lover's heart as they head into the holiday season.