The end of summer always brings mixed feelings of excitement and looking forward to the new year and new friends. But, one also has to scale back the Netflix binges and get back into classroom mode. This may be easier for those who get to attend one of the most beautiful high schools in the state. Ya'll have it made!
We've rounded up a list of the most 25 stunning high schools in Texas -- check it out to see if your alma mater or current school made the list.
P.S. If you didn't get to it over the summer, there's no time like the present to start teen drivers ed , parent taught drivers ed for the DIY-ers, or adult drivers ed for the DIY-ers, or adult drivers ed for those of you close to 18. Finish it on your smartphone in no time with Aceable.
25. Highland Park High School (University Park)
Built in 1937, Highland Park High School has undergone many renovations over the years, though its original brick design has remained. In 2003, the school got a major upgrade that included new classroom space and a larger cafeteria.
Photo credit: Source
24. Prosper High School
This five-year-old building has a beautiful brick exterior and state-of-the-art-facilities to boot. At Prosper High School, students can take advantage of a broadcast studio, greenhouse, and indoor football training field.
Photo credit: Source
23. Byron Nelson High School (Trophy Club)
This massive school building in the Dallas-Forth Worth area encompasses two gyms, a courtyard and a theater that seats 800. Though large, Bryon Nelson High was designed to include eco-friendly elements, such as energy-efficient lighting.
Photo credit: Source
22. El Paso High School (El Paso)
Nope, that's not a Roman colosseum, but it is a battleground for the El Paso High Tigers. The stadium overlooks downtown El Paso and rests at the foot of the Franklin Mountains. This is one is an oldy but a goody. It was built in 1916 and has the nickname "the Lady on the Hill." Dreamy, right?
Photo credit: Source
21. Trinity Valley School (Fort Worth)
This 75-acre campus in southwest Fort Worth encompasses beautiful stucco buildings and plentiful green space. Amenities include state-of-the-art classrooms, up-to-date athletic complexes, and an Upper School courtyard.
Photo credit: Source
20. Stephen F. Austin School (Austin)
This campus is more commonly known to locals as "Austin High." It was a rich history as one of the FIRST public high schools in the whole state of Texas. So, it's impressive and classic facade should be of no surprise. What's more, they are on the edge of the famous Lady Bird Lake in Austin, a popular place to cool down and escape the summer heat and catch a beautiful view of downtown.
Photo credit: Source
19. Thomas Jefferson High School (San Antonio)
Built in the 1930's in the Spanish-Moorish design, Thomas Jefferson High is one of the most ornate school buildings in the state. Baroque details on the exterior columns were hand carved by Italian architect Hannibal Pianta, who immigrated to Texas at the turn of the century. Fifty-one years after the school was constructed, it was named to the National Register of Historic Places.
Photo credit: Source
18. Lovejoy High School (Lucas)
Built in 2006, this beautiful brick campus encompasses a central courtyard, tree-lined walkways, and outstanding athletic facilities. The 10-year-old high school is home to more than 1,100 students in the north Dallas area.
Photo credit: Source
17. Cy-Fair High School (Cypress)
The oldest high school in the Cypress-Fairbanks Independent School District, Cy-Fair was dedicated by sitting First Lady Eleanor Roosevelt in 1941. Its Neoclassical design has served as the inspiration for many other schools in its district. Though renovated several times since it was built, the original exterior of Cy-Fair has been preserved throughout its history.
Photo credit: Source
16. Cypress Park High School (Cypress)
This high school not only has a unique look but a unique take on education as well. They aim to have a "global community of learning" where the school connects with other schools to create shared learning experiences. And, instead of the traditional library set-up. They boast a state-of-the-art "learning lab" fully equipped with the latest technology, presentation applications, and other collaboration tools for students.
Photo credit: Source
15. Carnegie Vanguard High School (Houston)
If a modern take on education is what you looking for, CVHS has not only a beautiful modern front, but it also boasts 100 out of a 100 scores on college prep readiness (according to U.S. News rankings ). So, going here means you not only get a modern-day educational experience, in terms of the amenities, you also should be all set for your next steps in life.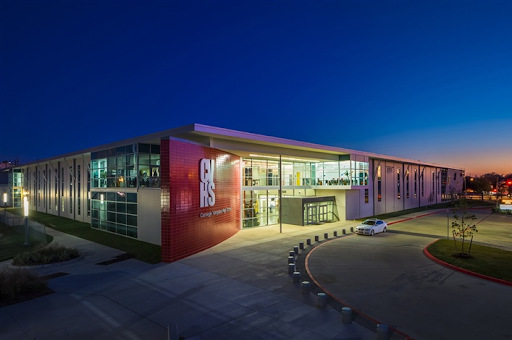 Photo credit: Source
14. College Station High School
One of the most expensive high schools built in Texas in the last decade, College Station opened for enrollment in the Fall of 2012. The architects who developed the school, SWH Group, received an honorable mention award for their design in 2013.
Photo credit: Source
13. The John Cooper School (The Woodlands)
Founded in 1988, this college preparatory school boasts brand-new buildings, including a math and science center that houses a rooftop garden and robotics lab. Located just north of Houston, The John Cooper School campus is characterized by large wooded areas and modern architecture.
Photo credit: Source
12. Atascocita High School (Humble)
Atascocita has an iconic red brick look. But, they are definitely innovative on the inside. This school focuses on personalized learning experiences that include "small learning communities." That means that facilities are complete with all kinds of collaboration rooms stuffed with technology that fosters group work and initiatives of all sizes. Plus, I know I would like to be able to take a dip in that indoor pool year-round.
Photo credit: Source
11. Texas School for the Deaf (Austin)
Located in Austin's famous South Congress neighborhood, this roughly 68-acre campus has a gorgeous view of the downtown skyline. Though originally founded in 1856, construction on the current campus began in the late '80s. The architects working on the school won an award for their design in 1999.
Photo credit: Source
10. Lubbock High School
Designed in the Spanish Colonial style, Lubbock High School features a baroque tower and red tile roofing. Built in 1930, the school is now listed on the U.S. National Register of Historic Places.
Photo credit: Source
9. Plano East High School
This Dallas-area high school consists of five interconnected buildings surrounding a central lake. Built in 1981, the high school was most recently updated in 2010 with the addition of a new science wing. Bridges and walkways surrounding the lake give students a view of the water every day.
Photo credit: Source
8. Alvin ISD Career & Technology Education (CTE) Center (Alvin)
In this school's case, it's truly what's on the inside that counts. These facilities are truly set up to prepare the workforce of the future. The next generation of technology workers has the opportunity to work hands-on in "lab" type settings while learning about the latest and greatest applications and workforce skills.
Photo credit: Source
7. The Woodlands College Park High School
Designed by PBK Architects , College Park High is easily identifiable by the striking teal-domed tower at the entrance of the school. Remnants of classical architecture, like arched windows and columns, give this Houston-area high school a collegiate feel.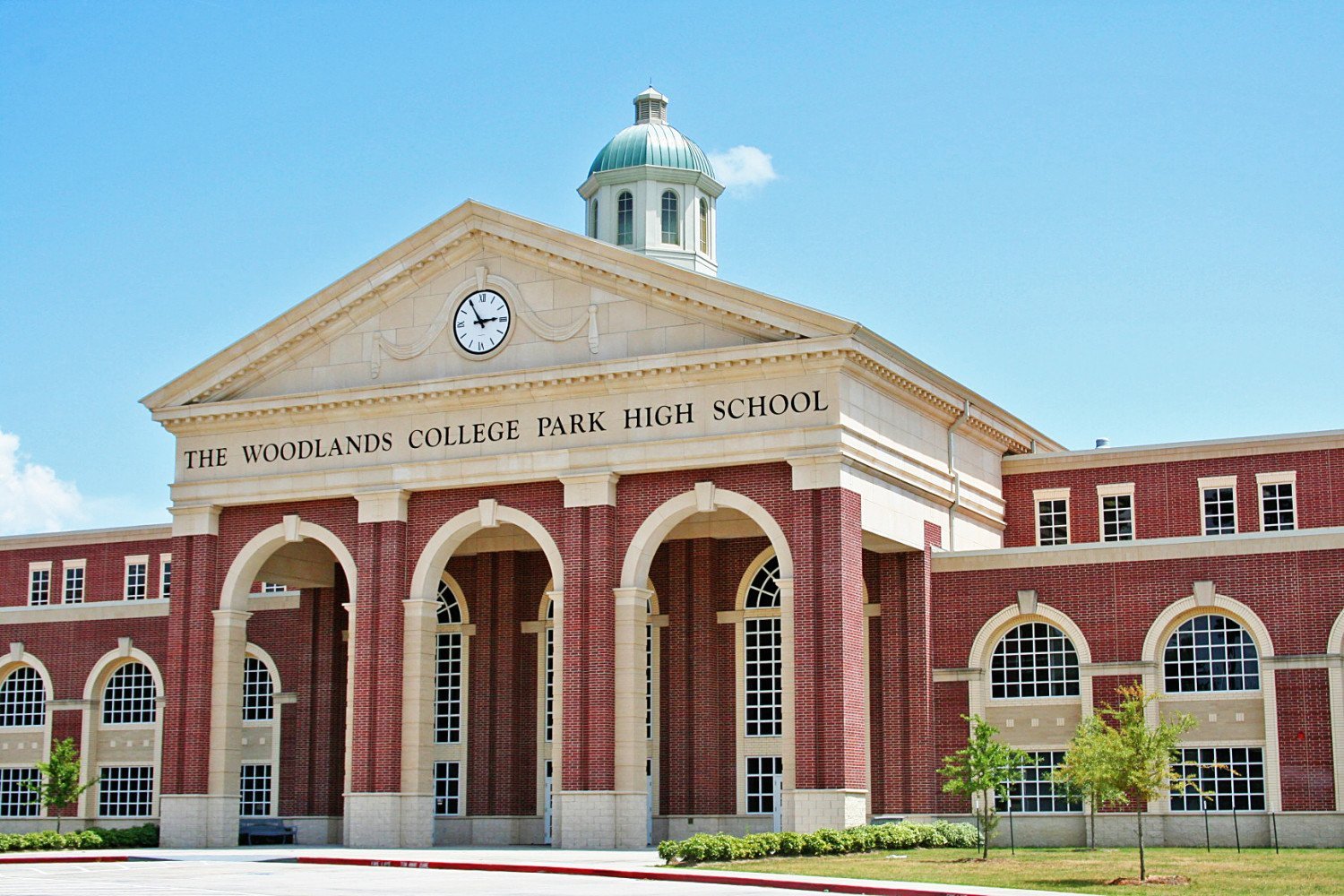 Photo credit: Source
6. St. Mark's School of Texas (Dallas)
Founded in 1906, St. Mark's occupies 40 acres of land in Northwest Dallas. Facilities include a natatorium, fitness center and amphitheater. One of the school's most beautiful buildings is the chapel, which houses a stunning pipe organ in the English design. St. Mark's has not only a beautiful campus but a reputation to back it up. It has been ranked as one of the best private schools in all of Texas by Business Insider .
Photo credit: Source
5. Cedar Ridge High School (Round Rock)
Located just North of Austin, TX, This modern campus might leave you with some serious education envy. The location is close enough to get into town easily, but also far enough out to escape the city madness. The school also has a unique set up with four sub-schools housed within it: International Business and Economics; Professional Studies; Science, Technology, Engineering, and Mathematics; and Visual and Performing Arts. Plus, the sunsets in the area are to die for!
Photo credit: Source
Photo credit: Source
4. Samuel V. Champion High School (Boerne)
Built in 2008, Champion High School in Boerne has won multiple awards for its design, including the Governor's Award for Environmental Excellence. Designed by Pfluger Architects , the school makes use of several eco-friendly elements, such as natural lighting and a rainwater harvesting system. We all know water is a scarce resource in Texas; it's great to have a school that gives back to not only the community but the environment as well.
Photo credit: Source
3. The Brook Hill School (Bullard)
A residential campus marked by white-columned buildings, expansive green lawns and connecting walkways, The Brook Hill School occupies 280 acres in Bullard, Texas. The most prominent structure on its campus is the dome-shaped Founder's Hall, which houses a museum and Upper School classrooms.
Photo credit: Source
2. The Hockaday School (Dallas)
Established at the turn of the 20th century, Hockaday moved to its current campus in 1961. Facilities on the 100-acre campus include lighted tennis courts, an engineering lab, and a wellness center.
Photo credit: Source
1. TMI - The Episcopal School of Texas (San Antonio)
Texas Military Institute has moved several times since it was founded, but the current campus rests in the Hill Country surrounded by Central Texas' natural beauty. Unique aspects of the campus include a 500-seat chapel, butterfly garden, and ceramics building. All facilities are made from locally sourced limestone.
Photo credit: Source
Want to see who made the cut last year? Check out our 2017's 25 Most Beautiful High Schools in Texas .