We know, you're on spring break... But that doesn't mean you can't still be true to your school! Such is the case for many of our California drivers ed and traffic school students, who get to go to school in the mountains or by the sea, some in buildings that are brand-new, others in structures so architecturally exquisite that they are registered as historic landmarks. From Beverly Hills to Fresno to Concord (where our California office is located!) and everywhere in between, here are the 40 most beautiful high school campuses in California.
40. Lindsay High School, Lindsay
Located in a small city of about 12,000 people, Lindsay High School is a bright beacon at the foothills of the stunning Sierra Nevada mountain range. The school's vibrant green rooftops match its equally verdant football field, where the Lindsay Cardinals come alive on Friday nights.
39. Balboa High School, San Francisco
Built in 1934, and known as the "First on the Pacific," Balboa High is the only school in its district considered a San Francisco Designated Landmark. The school's Spanish Colonial Revival architecture is not only stunning, but also reflects a time period of growth and discovery in California -- an aura that is still very much alive at Balboa today.
38. Palo Alto High School, Palo Alto
Just across the way from Stanford University, Palo Alto High shares the same stucco walls and terracotta rooftops as its neighboring college. Founded in 1898, "Paly" is one of the longest-running high schools in the area, and its handsome exterior continues to wow passersby today.
37. Salinas High School, Salinas
This impressive Spanish Revival style high school was built in 1921, right around a time of growth and prosperity for the city of Salinas. Though the school was remodeled in 1999, fortunately most of the original architecture was preserved, including its prominent bell tower.
36. San Marcos High School, Santa Barbara
At San Marcos High School, located in the shadows of the Santa Ynez mountains and just a few miles from the coast, students enjoy the natural beauty of their surroundings. Considering that the school's team nickname is the Royals, it's no surprise these Santa Barbara students go to class in a palm-tree adorned palace.
35. American Canyon High School, American Canyon
This gorgeous 45-acre campus was constructed in 2010 and contains a 400-seat theater as well as the largest school gym in the county. But the facilities aren't just state-of-the-art, they're also fully eco-friendly. American Canyon uses green resources like solar panels, natural lighting and reclaimed water to keep the school running.
34. Mercy High School, Burlingame
The students of Mercy High go to school in a mansion -- literally. The institution was founded by the Sisters of Mercy in 1931 when they turned a 63-room rose-brick estate into their schoolhouse. Today, the mansion not only serves Mercy students -- it's also used as a venue for weddings and other events.
33. Galileo Academy of Science and Technology, San Francisco
This 95-year-old school designed by San Francisco city architect John W. Reid, Jr. is known for its rooftop observatory, open courtyard and Neoclassical arches. Recognized for its championship football program, Galileo also boasts a newly renovated field.
32. Fremont High School, Sunnyvale
Fremont High was founded in 1923, during what some refer to as a Golden Age of construction for California schools. Though the bell tower caught fire in 1969 and suffered some damage, and the school has undergone many renovations since, Fremont's original Spanish mission architecture has, thankfully, remained intact throughout the years.
31. Mission High School, San Francisco
Easily visible by its 127-foot dome tower, Mission High is the only school of its kind in San Francisco still at its original site. Though the original building was destroyed in a fire, the school was rebuilt in 1927, borrowing elements from the architectural styles of Mediterranean Revival and Spanish Baroque.
30. Torrance High School, Torrance
You may recognize Torrance High School as the alma mater of some of your favorite fictional characters, seeing that it has been used as the filming location for many television shows, including Beverly Hills, 90210 and *The Secret Life of the American Teenager**.* Established in 1917, Torrance is the oldest high school in its district.
29. Inderkum High School, Sacramento
This modern Sacramento high school was built in 2004 and designed to be energy efficient. Features like solar roof panels and a geothermal HVAC system ensure the school stays in operation while also reducing its carbon footprint.
28. Carondelet High School, Concord
Though founded with just six classrooms in 1965, Carondelet now encompasses an aquatics center, large dining facility, expansive plaza and many more classrooms than the first six. Elements of the original campus are still intact, including its brick facade and marked white columns.
27. George Washington High School, San Francisco
This white-columned high school is praised most often for its spectacular view of the Golden Gate Bridge. Built in 1936, the school was completed nearly a decade before the famous overpass, and has seen a great deal of change between its first and 79th graduating class.
26. Edison High School, Fresno
The new Edison High campus is just a few years old, but its design mirrors that of the original school building, according to the architects who led the project. Modern elements include the use of solar panels and skylights, a black and yellow exterior to match the school's colors and a sun screen patterned with binary code -- a nod to Edison's focus on math and science.
25. Carmel High School, Carmel-by-the-Sea
Carmel High School, situated between the Pacific Ocean and Santa Lucia mountains, is nothing short of picturesque. Its student body of about 900 enjoys facilities including an outdoor swimming pool, football field with a view and newly constructed performing arts center, which has won awards for its architectural design.
24. Beverly Hills High School, Beverly Hills
The team mascot of Beverly Hills High is the Norman, an appropriate choice considering the school's French Normandy style architecture. This beautiful campus has served as the setting for many films and television shows, including It's a Wonderful Life and Clueless .
23. Wasco Union High School, Wasco
The crowning jewel of this San Joaquin Valley high school is its auditorium, the only building in the city of Wasco listed on the National Register of Historic Places. The Renaissance Revival performing arts center was designed by recognized architect Ernest J. Kump, Jr. in 1929. Despite many changes to the campus since then, the auditorium has remained a constant at Wasco Union.
22. Tamalpais High School, Mill Valley
This Mill Valley high school has a rich history, starting with its establishment in 1908. At first just a few makeshift structures on a hill, Tamalpais was built piece by piece over the years, thanks, in part, to its students, who helped design the school. At the turn of the century, Tam was even a stop on the Greyhound bus line, where it was dubbed "the most beautiful campus in the state of California."
21. Marymount High School, Los Angeles
Built in 1923, thisCatholic, all-girls school contains three buildings listed as Los Angeles Historic-Cultural Monuments. The six-and-a-half acre campus was built in the tradition of Spanish Colonial Revival style architecture, making it a stunning sight to see along Sunset Boulevard.
20. Venice High School, Los Angeles
This Los Angeles area school has enjoyed its share of screen time, most notably as the fictional Rydell High School in the film Grease . Its most famous feature is the statue at the front of the school, which was erected in 1922 and modeled after renowned actress Myrna Loy, who was just another student at Venice High at the time.
19. Ramón C. Cortines School of Visual and Performing Arts (Grand Arts High School), Los Angeles
Perhaps the most unique looking school in the state of California, Grand Arts is home to seven avant-garde buildings designed by Austrian architectural firm Coop Himmelb(l)au. Located on a 10-acre block in downtown L.A., the campus includes a cone-shaped library and 140-ft tower.
18. Diamond Ranch High School, Pomona
This Expressionist Modern high school was designed by Los Angeles architectural firm Morphosis in 2001 and has appeared in several movies, including Die Hard 4 . Located on a hillside, Diamond Ranch has a breathtaking view of the Pomona Valley.
17. Santa Barbara High School, Santa Barbara
One of the oldest high schools in the state, Santa Barbara is situated on 40 acres of land in the awe-inspiring region known as "The American Riviera." The school's main building, influenced by 18th-century Spanish architecture, was named a California historical landmark in 2005.
16. Midland School, Los Olivos
This Santa Barbara County boarding school rests on more than 2,800 acres of mostly untouched ranch land, which includes 35 miles of trails and dirt roads and a 10-acre organic garden. As part of their graduation requirements, students must help maintain the school property by working in the garden, tending to the horses or landscaping.
photo credit: BoardingSchoolReview.com
15. Chaffey High School, Ontario
At 65 acres, the Chaffey High School campus is one of the largest by area in the state of California. The school's beautiful Mission-style clock, which had been out of operation for more than three decades, was recently replaced with a new model, and it now chimes every hour that students are on campus.
14. South Tahoe High School, South Lake Tahoe
Renovated in 2013, South Tahoe High School is an open-air campus that encircles brand-new facilities, including a student union, stadium and building for the arts with a 300-seat theatre.
13. The Webb Schools, Claremont
This 72-acre campus that rests on a hillside at the foothills of the San Gabriel Mountains is the only high school in the world that houses a nationally accredited paleontology museum. In addition to its museum, Webb also encompasses a Mediterranean-style library and chapel made of Spanish mission-style bricks.
12. The Bay School, San Francisco
Opened in 2004, The Bay School is housed in remodeled army barracks that date back to 1912. With its incredible view of the Golden Gate bridge and surrounding bay, it's easy to see how this school got its name.
11. Lakeside High School, Lake Elsinore
Located on the edge of a 3,000-acre freshwater lake with a view of the Elsinore Mountains, this Riverside County high school is engulfed within an incredible landscape. Opened in 2004, the campus expands more than 72 acres and includes a swimming pool and courtyard for students.
10. Flintridge Sacred Heart Academy, La Cañada Flintridge
This cluster of mission-style buildings in the foothills of the San Gabriel Mountains was built as a luxury resort in 1927. Four years later, it opened as Flintridge Sacred Heart Academy. The dormitories, though renovated, are the very same that the first Sacred Heart students slept in, and the cafeteria predates the school as the hotel dining hall.
9. Los Gatos High School, Los Gatos
Designed by famous California-based architect W.H. Weeks, this Neoclassical-style high school is home to more than 1,700 students in the Silicon Valley area. The campus' rolling front lawn is a favorite feature of students, staff and alumni, and serves as a gathering place for the whole community.
8. St. Francis High School, La Cañada Flintridge
Founded at the site of a former country club in 1946, St. Francis High School is now home to a 12,000 sq-ft performing arts center, all-weather outdoor track and courtyard at the heart of the campus.
7. Excelsior School, Pasadena
This 17-acre residential campus is not only filled with towering trees, magnificent buildings and lush, green lawns, but it also overlooks a breathtaking view of the Angeles Crest Mountains.
6. Stevenson School, Pebble Beach
With its cabin-like facilities, this central coast residential campus feels homey for day and boarding students alike. Stevenson's expansive campus includes a ropes course, dorms with ample common areas and 30,000 sq-ft student center.
5. The Thacher School, Ojai
Going to school in Ojai, California -- a city known for its natural beauty -- Thacher students have the opportunity to explore beyond the trails, horse pastures and athletic fields that make up their campus and into the neighboring Los Padres National Forest. The school, built on the site of a former ranch, is composed of both California Craftsman and Spanish Colonial Revival architecture.
4. Idyllwild Arts Academy, Idyllwild
This Southern California arts high school stands at 5,200 ft above sea level , surrounded by pine trees high up in the San Jacinto Mountains. The school's isolated setting is counterbalanced by its cutting-edge facilities, including a kiln studio, amphitheater and film editing bay.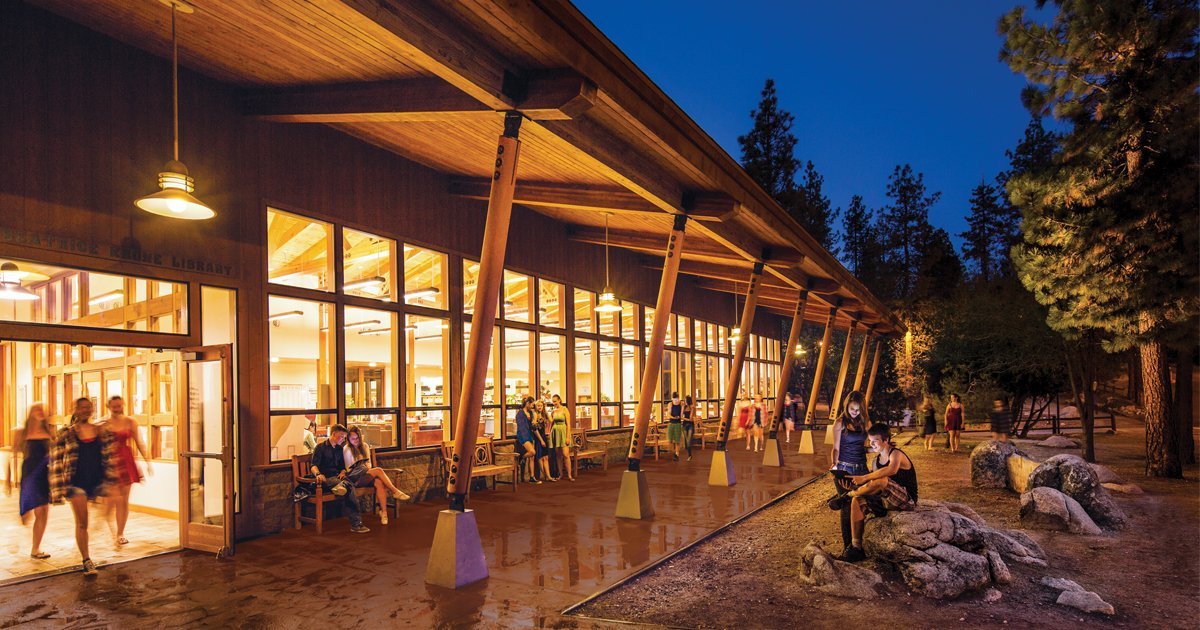 3. Santa Catalina School, Monterey
Established at its current site in 1950, Santa Catalina School is an hacienda-style haven just one mile from the beach. The campus is a mix of both old and new, from the 62-year-old Rosary Chapel with its intricate stained-glass windows, to the three-story math and science center dedicated in January 2016.
2. Squaw Valley Academy, Olympic Valley
Situated at the foot of the Sierra Nevada, Squaw Valley Academy is the perfect setting for outdoor activities like skiing, rock climbing and hiking. In fact, the campus is just a couple miles from the site of the 1960 Winter Olympics, where students can ski recreationally.
1. Cate School, Carpinteria
To see views of the Santa Barbara Channel or Santa Ynez Mountains, all Cate School students have to do is peek out their dorm room window. Residence halls on this boarding school campus are designed in the Monterey Colonial style and have open-air balconies and patios overlooking the magnificent coastal landscape.