As you scale back your Hulu and Netflix binges and get back into the swing of things, it's a time to reflect on how lucky Californian's are to attend classes by the ocean, in the mountains, in beautiful valleys, and beside luscious forests.
Such is the case for many of our California drivers ed students. From Beverly Hills to Fresno to Concord (where our California office is located!) and everywhere in between, here are the 25 most beautiful high school campuses in California.
25. Santa Barbara High School (Santa Barbara)
Santa Barbara High School boasts beautiful 18th-century Spanish architecture. The Spanish-inspired buildings span the full 40 acres of the campus in Santa Barbara, California. Its rich history goes along with holding the record as the 3rd oldest high school in all of California. The campus has also officially been named a California and city historic landmark.
Photo credit: Source
24. Salinas High School (Salinas)
This impressive Spanish Revival style high school was built in 1921, right around a time of growth and prosperity for the city of Salinas. Though the school was remodeled in 1999, fortunately, most of the original architecture was preserved, including its prominent bell tower.
Photo credit: Source
23. Lindsay High School (Lindsay)
Located in a small city of about 12,000 people, Lindsay High School is a bright beacon at the foothills of the stunning Sierra Nevada mountain range. The school's vibrant green rooftops match its equally verdant football field, where the Lindsay Cardinals come alive on Friday nights.
Photo credit: Source
22. American Canyon High School (American Canyon)
This campus is located in one of the fast-growing regions of the nation. Its location is the Southern region of Napa Valley, meaning that it comes with not only a comprehensive education but a spectacular set of views as well. It is nestled on 45 acres and incorporates many "green" features into its architecture.
Photo credit: Source
Photo credit: Source
21. Canyon Crest Academy (San Diego)
CCA is a public "school of choice." This means that any student in the district can select the academy and a lottery is held to see who gets in. Student success on campus and beyond is strongly supported by parents and the community, who partner with school staff to provide educational opportunities for all students. Solidifying their reputation, they are ranked the #1 public school in Cali by Niche.com . Plus, who wouldn't want to be close to the San Diego Zoo and all that SD has to offer?
Photo credit: Source
20. University High School (Fresno)
This university is not only super modern in its looks but also its teaching methods. It is ranked #5 in the entire state in terms of quality of education. Top-notch looks and a top-notch education. Not too shabby.
Photo credit: Source
19. George Washington High School (San Francisco)
Best views in town should be the tagline for this one. This white-columned high school is praised most often for its spectacular view of the Golden Gate Bridge. Built in 1936, the school was completed nearly a decade before the famous overpass and has seen a great deal of change between its first and most recent graduating classes.
Photo credit: Source
18. L** akeside High School (Lake Elsinore)**
Located on the edge of a 3,000-acre freshwater lake with a view of the Elsinore Mountains, this Riverside County high school is engulfed within an incredible landscape. Opened in 2004, the campus expands more than 72 acres and includes a swimming pool and courtyard for students.
Photo credit: Source
17. Flintridge Sacred Heart Academy (La Cañada Flintridge)
This cluster of mission-style buildings in the foothills of the San Gabriel Mountains was built as a luxury resort in 1927. Four years later, it opened as Flintridge Sacred Heart Academy. The dormitories, though renovated, are the very same that the first Sacred Heart students slept in, and the cafeteria predates the school as the hotel dining hall.
Photo credit: Source
16. Napa Union High School (Napa)
What's better than getting to attend high school in Napa Valley? Getting to arrive at this view each morning. Their slogan: "Proud past, promising future" says it all. They got their start in 1897 and continue to thrive in the blossoming Napa Valley wine country. Beautiful indeed.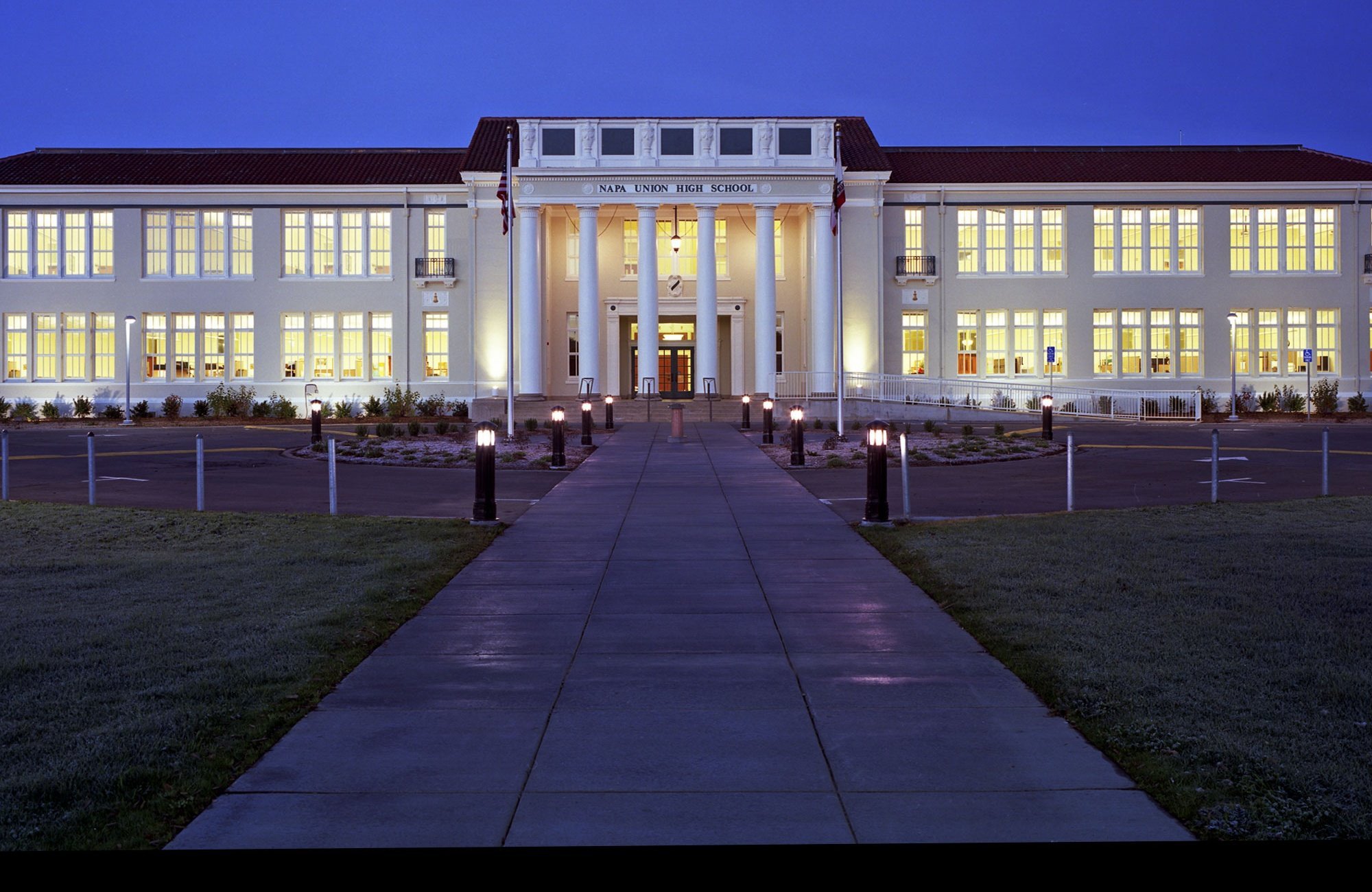 Photo credit: Source
15. Mission High School (San Francisco)
Easily visible by its 127-foot dome tower, Mission High is the only school of its kind in San Francisco still at its original site. Though the original building was destroyed in a fire, the school was rebuilt in 1927, borrowing elements from the architectural styles of Mediterranean Revival and Spanish Baroque.
Photo credit: Source
14. Pacific Ridge High School (Carlsbad)
Pacific Ridge High School is a private school that can be attended in person or online. But, let's get real here... What's the point if you aren't getting to enjoy these stellar views in person? PRHS is proud of not only their state of art facilities but also their small classroom settings.
Photo credit: Source
13. Inderkum High School (Sacramento)
This modern Sacramento high school was built in 2004 and designed to be energy efficient. Features like solar roof panels and a geothermal HVAC system ensure the school stays in operation while also reducing its carbon footprint.
Photo credit: Source
12. Heritage High School (Brentwood)
This building uses a combination of sustainable materials, abundant daylight, and sun shading all integrated into a design that took into perspective parents, students, and even other community members. The result was a school that features a state-of-the-art theatre, recording studio, broadcast studio (with green screen), and large rear projection screen TVs in each and every classroom.
Photo credit: Source
11. Animo Leadership Charter High School (Inglewood)
Amino is a public school for about 500 students in the rough South Los Angeles neighborhood located almost directly under the flight path into LAX. It's South wall is completely covered in solar panels and provides over 75% of the energy needs for the school. Pretty cool city innovations.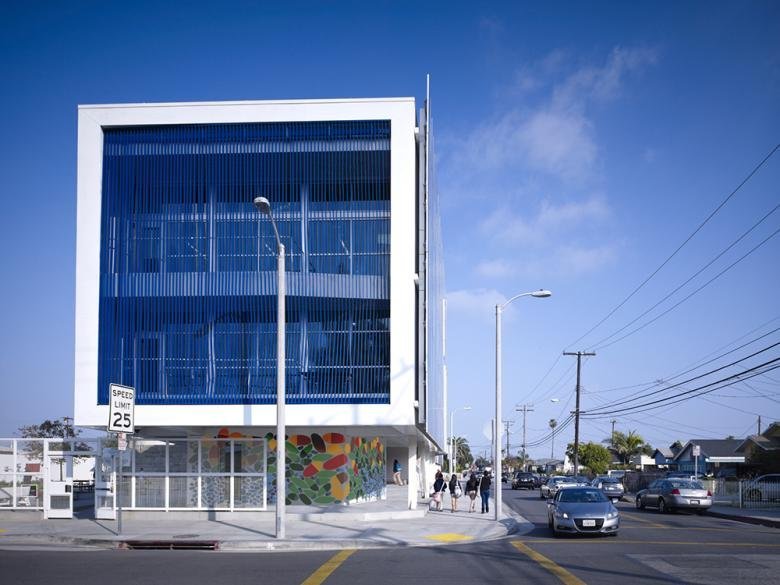 Photo credit: Source
10. Midland School (Los Olivos)
This Santa Barbara County boarding school rests on more than 2,800 acres of mostly untouched ranch land, which includes 35 miles of trails and dirt roads and a 10-acre organic garden. As part of their graduation requirements, students must help maintain the school property by working in the garden, tending to the horses, or landscaping.
Photo credit: Source
9. Stevenson School (Pebble Beach)
With its cabin-like facilities, this central coast residential campus feels homey for day and boarding students alike. Stevenson's expansive campus includes a ropes course, dorms with ample common areas, and 30,000-square-foot student center. Their slogan is: "dream big and master the art of the possible." They certainly have dreamy views to help imagine the possibilities of the future.
Photo credit: Source
8. Excelsior School (Pasadena)
This 17-acre residential campus is not only filled with towering trees, magnificent buildings, and lush, green lawns, but it also overlooks a breathtaking view of the Angeles Crest Mountains.
Photo credit: Source
7. The Thacher School (Ojai)
Going to school in Ojai, California — a city known for its natural beauty — Thacher students have the opportunity to explore beyond the trails, horse pastures and athletic fields that make up their campus and into the neighboring Los Padres National Forest. The school, built on the site of a former ranch, is composed of both California Craftsman and Spanish Colonial Revival architecture.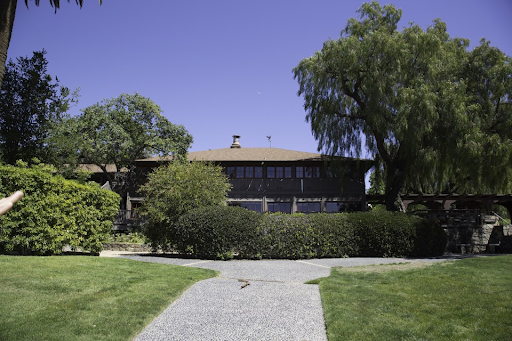 Photo credit: Source
6. Cate School (Carpinteria)
To see views of the Santa Barbara Channel or Santa Ynez Mountains, all Cate School students have to do is peek out their dorm room window. Residence halls on this boarding school campus are designed in the Monterey Colonial style and have open-air balconies and patios overlooking the magnificent coastal landscape.
Photo credit: Source
5. Central Los Angeles Area High School (Los Angeles)
Next to the heart of downtown Los Angeles, you'll find Central LA #9. This campus' unique design comes from Austrian architects Coop Himmelblau. This campus, very suitingly, focuses on the study of visual and performing arts. It includes 4 different "academies" or areas of study: music, dance, theater arts, and visual arts. And, to show off the work that students do there, it is also the home to a theater that can sit over 1,000 visitors.
Photo credit: Source
4. Edison High School (Fresno)
The new Edison High campus is just a few years old, but its design mirrors that of the original school building, according to the architects who led the project . Modern elements include the use of solar panels and skylights, a black and yellow exterior to match the school's colors and a sunscreen-patterned with binary code — a nod to Edison's focus on math and science.
Photo credit: Source
3. Diamond Ranch High School (Pomona)
This Expressionist Modern high school was designed by Los Angeles architectural firm Morphosis in 2001 and has appeared in several movies, including Die Hard 4. Located on a hillside, Diamond Ranch has a breathtaking view of the Pomona Valley.
Photo credit: Source
2. Santa Catalina School (Monterey)
Established at its current site in 1950, Santa Catalina School is an hacienda-style haven just one mile from the beach. You read that right... 1 mile! The campus is a mix of both old and new, from the 62-year-old Rosary Chapel with its intricate stained-glass windows, to the three-story math and science center dedicated in January 2016.
Photo credit: Source
1. Carmel High School (Carmel)
Carmel High School, situated between the Pacific Ocean and Santa Lucia mountains, is nothing short of picturesque. Its student body of about 900 enjoys facilities including an outdoor swimming pool, football field with a view, and newly constructed performing arts center, which has won awards for its architectural design.
Photo credit: Source
Hungry for more? Check out the biggest and most beautiful high schools of California in 2018.