When you think Florida, you can't help but think of beaches, palm trees, great food and scenery, and that oh so magical place that happens to be in Orlando. But, Florida is also home to some pretty awesome places to attend high school. We are more than a little jealous of some of our Florida students who get to attend school in such a dreamy location. Not to mention, some of these school have pretty sweet sports, academic, and other extracurricular activities and facilities. So next time you are in the sunny state, why not check out a few of the campuses that made the list, and see if your alma mater made the cut as well!?
25. Bartow High School, Bartow
Founded in 1887, this campus has a rich history and is the only high school to serve the area of Bartow. The school is also the home of an International Baccalaureate School and Summerlin Academy, the only public military school in Florida.
Photo credit: Source
24. Mainland High School, Daytona Beach
Built in 2006, with the help of a generous gift from alumnus and NBA All-Star Vince Carter, Mainland High School is an architectural feat. Its five buildings look out over a magnificent courtyard so close to the ocean that you can smell the salt air.
Photo credit: Source
23. Charlotte High School, Punta Gorda
In 2004, a Category 4 hurricane swept through Punta Gorda, causing damage to Charlotte High School. While the school's main building had to be reconstructed, architects at Harvard Jolly were able to preserve much of its original Neoclassical design. The three-story property was the first-ever high school in Charlotte County and now has a place on the U.S. Registry of National Historic Places.
Photo credit: Source
22. Weeki Wachee High School, Weeki Wachee
First and foremost, it's fun to say. Who wouldn't want to have Weeki Wachee as their alma mater? Furthermore, this school has had recent upgrades to keep it up-to-date and environmentally friendly. Win, win, win.

Photo credit: Source
21. Leon High School, Tallahassee
This Tallahassee institution was founded in 1831, nearly 15 years before Florida was admitted to the Union, making it the oldest high school in the state. The building in which the school is currently housed was erected in 1937 and became a national historic landmark in 1993.
Photo credit: Source
20. Sarasota High School, Sarasota
Sarasota High School is located on 85 beautiful acres. As a fun fact, they used to be home to the Sailor Circus (aka The Greatest Show on Earth). Interesting right!?
Photo credit: Source
19. Strawberry Crest High School, Dover
This public high school in East Hillsborough County, Florida, opened in 2009 and immediately received architectural awards celebrating its style, design, and functionality.
Photo credit: Source
18. Venice High School, Venice
This school recently received a 4-year-long facelift. The new design includes technology-enabled active learning labs. They also got a new gym, admin building, media center, and some new classrooms.
Photo credit: Source
17. North Broward Preparatory School, Coconut Creek
Located in sunny Coconut Creek, known as the Butterfly Capital of the World, North Broward Preparatory School offers students plenty of natural beauty to marvel at. The 80-acre campus includes fitness centers, swimming pools, and dormitories.
Photo credit: Source
16. Episcopal School of Jacksonville
Originally founded on a 28-acre piece of property known as the Keystone Estate, Episcopal School has since grown to encompass 56 acres. The riverfront campus includes a boathouse, garden, chapel, and 800-seat auditorium.
Photo credit: Source
15. Edgewater High School, Orlando
For a time, the students here had to be placed in portables, while new facilities were finished. The wait was likely worth it, as the old portable space is now the home to updated sports facilities. The prettiest jewel on campus is easily the auditorium (shown below).
Photo credit: Source
14. The Benjamin School, North Palm Beach
The Benjamin School has come a long way since its humble beginnings in a three-car garage in North Palm Beach. The school's current campus, built at the turn of the 21st century, surrounds ponds, athletic fields, and beautiful walkways.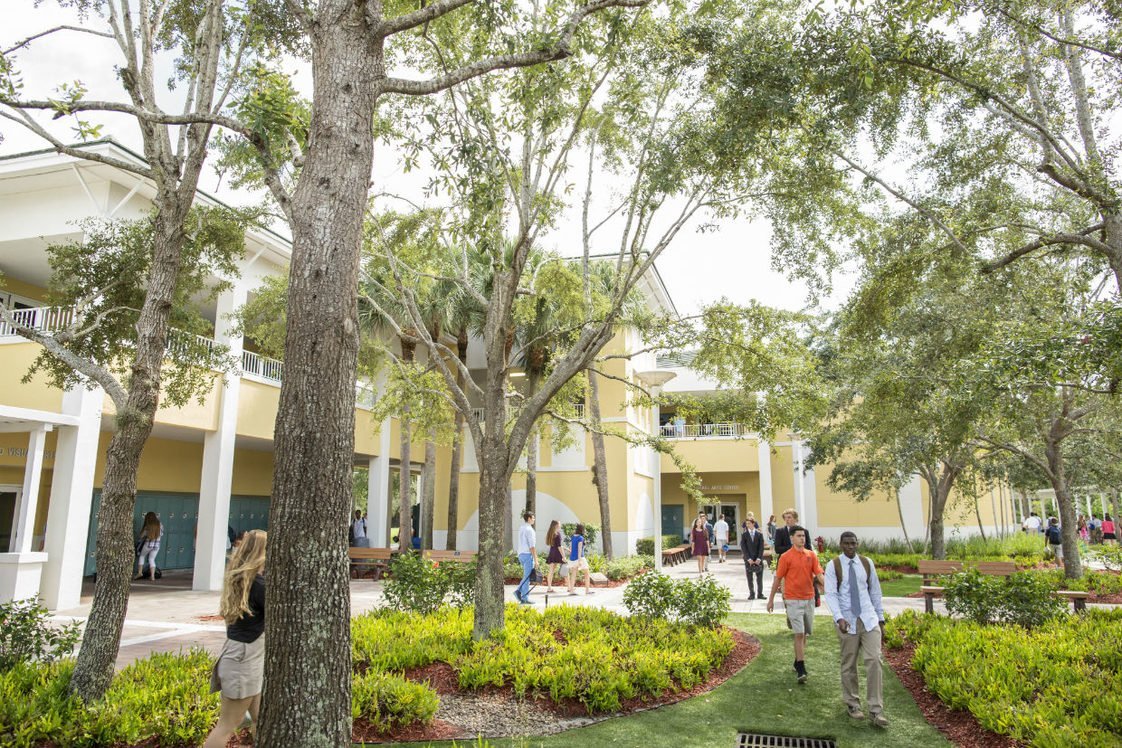 Photo credit: Source
13. Miami Country Day School, Miami
Founded in 1938 with just a few buildings, Miami Country Day School has grown to encompass more than 13 facilities, including an aquatics center, athletic fields, and media center with a broadcast studio.
Photo credit: Source
12. Mosley High School, Panama City
The pride and joy of this campus is the performing arts center -- which can hold over 800 attendees. It may just need this much space after being awarded the distinction of one of the top 6% of high schools in the US by the US News and World Cup.
Photo credit: Source
11. Manatee High School (Bradenton)
The most famous feature of Manatee's campus is its Davis Building, originally erected in 1926. Eighty-four years later, the deteriorating structure was rebuilt, but architects kept the building's most beautiful elements, including its six white columns and brick facade.
Photo credit: Source
10. Miami Beach Senior High School, Miami
Miami Beach Senior High School has an undeniably beautiful location. It is lucky enough to be just across the way from the Miami Beach Convention Center and the Botanical Gardens. Making this place even more special, it was the first location in Miami Dade County to be recognized as an Internal Baccalaureate World School -- meaning it's an extra special group of students who get to attend and graduate with a special diploma from the program.
Photo credit: Source
9. Berkeley Preparatory School, Tampa
This 86-acre campus featuring Spanish Mission style buildings includes two libraries, a café with outdoor seating and a 634-seat theater. Though founded in 1960, Berkeley has continued to expand with new facilities, including a 75,000-square-foot Center for the Arts and Sciences built in 2015.
Photo credit: Source
8. Pine Crest School, Fort Lauderdale
Pools, fountains, and courtyards give Pine Crest School in Fort Lauderdale a luxurious feel. Among the institution's many facilities is the upper school academic center, which opened its doors just five years ago.
Photo credit: Source
7. Trinity Preparatory School, Winter Park
The students and faculty at Trinity Preparatory School aren't the only ones who call this 104-acre campus home. A family of sandhill cranes also reside on the Winter Park grounds. With Trinity's two lakes and abundant green space, it's easy to see why.
Photo credit: Source
6. Douglas Anderson School of the Arts, Jacksonville
This Jacksonville school was named for the man who helped lead its construction, Douglas Anderson. In 1985, the institution became a school for the arts and has since undergone two major renovations that included upgraded dance rooms, an art gallery, and a theater.
Photo credit: Source
5. Academy of Environmental Science, Crystal River
Nestled on the banks of the Salt River, the Academy of Environmental Science offers students the opportunity for hands-on learning in the incredible ecosystem that surrounds them. Students aren't far from the Gulf of Mexico or a number of lakes, and can even explore the Salt River via canoe!
Photo credit: Source
4. Hillsborough High School, Tampa
Though Hillsborough was established in 1882, making it one of the oldest institutions in the region, the school has been at is current home since 1928. Originally designed by prominent architect Francis J. Kennard, the school has since undergone many renovations and expansions while staying true to its Gothic exterior.
Photo credit: Source
3. Windermere Preparatory School, Windermere
Bordering Cypress Lake, this Orange County campus is all palm trees, fountains and bright green grass. Encompassing 48 acres, Windermere's campus includes a swimming pool, tennis courts, and a café, among other amenities.
Photo credit: Source
2. The Bolles School, Jacksonville
This 52-acre campus is gorgeous from end to end, but its crown jewel is Bolles Hall, which was built as the San Jose Hotel in 1925. Listed on the National Register of Historic Places, it now serves as dormitories for male students, as well as provides classroom and office space.
Photo credit: Source
1. Riverview High School, Sarasota
Let's be honest...it doesn't even look like a high school. The mission of the school is to provide a learning environment that fosters a passion for intellectual curiosity. We are all just curious here as to how you could possibly NOT want to be in class?
Photo credit: Source