In the distance a drum line can be heard. As the beats grow louder chants and cheers begin to swell in unison as the crowd gets to their feet. Then when you think the excitement can't get any higher the mascot comes charging out and the crowd goes bananas.
The mascot is an embodiment of team spirit. When the crowd or team needs to get fired up, the mascot is there leading the charge with their seemingly endless energy. This time of year mascots are working overtime out on the football field and getting people pepped at pep rallies.
In the spirit of football season, we've found the best of the best high school mascots in Pennsylvania based on originality and general awesomeness. It wasn't easy given that Pennsylvania has way more high schools than most states, but we found dozens of mascots that deserve recognition.
See if your high school got a spot on our list of top Pennsylvania mascots!
#27 - West Chester East High School Vikings, West Chester
Vikings make great mascots because they're tough, they've got cool facial hair and the headgear is always fun. There are other Vikings in the state, but the golden locks of West Chester East High School's Viking mascot matches the school colors perfectly.
Source: Facebook
#26 - Liberty High School Hurricanes, Bethlehem
Liberty High School is giving the University of Miami a run for its money as far as stormy mascots go. They may not see many real hurricanes in Pennsylvania, but Liberty High School kind of nailed it with their mascot's logo.
Source: basdwpweb.beth.k12.pa.us
#25 - William Allen High School Canaries, Allentown
Birds of prey are usually the standard for fowl-related mascots, but William Allen High School went with an in-your-face yellow canary. Maybe it's the little man syndrome kicking in, but this canary is no Tweetie Bird. It was a natural selection since canary yellow in one of the school colors, however, school officials say the mascot was also selected because canaries are the only bird that can fly through a hurricane. It just so happens that the Liberty High School Hurricanes are a rival team.
Source: www.allentownsd.org
#24 Karns City High School Gremlins, Karns City
Wonder what happens if it rains during a Gremlins football game? Instead of being slimy and green, Karns City High's mean-mugged gremlin takes on the school's purple color.
#23 Hampton High School Talbots, Allison Park
The Hampton school district is the only place in the country where you'll find the talbot as the mascot. It's not inspired by the clothing chain. The Talbot is a breed of hunting dog. In the 1940s students found out there's a talbot on one of the House of Hampton coat of arms so they adopted the dog as their mascot.
Source: ht-sd.org
#22 North East High School Grape Pickers, North East
Grapes are so abundant in North East that vineyards surround the high school. The Welch's headquarters also isn't far away. Naturally, Grape Pickers was the perfect mascot.
Source: digitalsports.com
#21 Solanco High School Golden Mules, Quarryville
Usually, broncos or stallions are mascots, not the hardworking mule. To make the mule a little more regal the school decided to make it gold.
Source: solanco.k12.pa.us/
#20 Jamestown High School Mighty Muskies, Jamestown
Sounds like Jamestown High School could defeat competitors with their smell. If they bring real muskies (a local fish) to games they just might.
Source: jamestown.k12.pa.us/
#19 Lower Merion High School Aces, Ardmore
We couldn't resist showing props to Lower Merion High School since our mascots have the same name. While we have a robot named Ace, the school gives the name to a bulldog brandishing a spade-shaped name tag on the collar.
Source: www.philabundance.org
#18 Washington High School Prexies, Washington
What's a prexie? Technically it's the name for a presidential stamp, but Washington High School uses it as a slang term for their presidential mascot.
Source: rdhinstl.info
#17 Palmerton High School Blue Bombers, Palmerton
They may not get Blue Angel flyovers before each game, but that doesn't phase the Blue Bombers of Palmerton High School. The mascot is a nod to the fighter planes that were used in WWII.
#16 Carmichaels Area Senior High School Mighty Mikes, Carmichaels
The city of Carmichaels decided to create a mascot character and Mighty Mike is what they came up with. In recent years the school has started using a lightning bolt for its logo, but originally there was a depiction for the fictional character that looked strangely similar to the Michelin Man.
Source: 3dinosaurs.blogspot.com
#15 Northampton Konkrete Kids, Northampton
Northampton didn't need misspelling to make their mascot stand out. Northampton High School adopted the Konkrete Kids mascot to pay tribute to the concrete industry that put the town on the map decades ago.
Source: www.mcall.com
#14 Minersville High School Battlin' Miners, Minersville
In coal mining country no one's tougher than a miner, and the Minersville HS mascot is no exception. Dude looks serious with his head lantern. Grab your helmet, pick and shovel before heading to a Friday night football game.
Source: battlinminers.com/
#13 Canon-McMillan Senior High School Big Macs, Canonsburg
This isn't Dick or Maurice McDonald's alma mater. The Big Mac mascot comes from the school's traditional Scottish soldier emblem and name.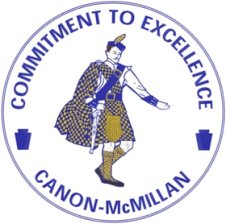 Source: mr-todaro-us-9.blogspot.com/
#12 Ambridge High School Bridgers, Ambridge
You may have already guessed it, but there are a lot of bridges in the Ambridge area. The city itself was named after the American Bridge Company, which helped establish the area. Bridgers was the term given to bridge builders back in the day.
Source: oocities.org
#11 Williamsport High School Millionaires, Williamsport
Mascots don't get more uppity than the Williamsport Millionaires. Long ago when Williamsburg was a thriving lumber producer it had more millionaires per capita than any other city in the world. So, the high school just went with the demographics to come up with the mascot and logo that features a fancy top hat, cane and white gloves.
Source: wasd.org
#10 Biglerville High School Canners, Biglerville
Like Carmichaels, Biglerville decided to create a character to represent their mascot. The original version of the "Canner Man" looks strikingly similar to Mighty Mike with its oversized barrel chest and tiny cap. Story has it that the mascot was a part of a deal to get the local canning factory to build the school.
Source: facebook.com/biglervillehighschool
#9 Greensburg Central Catholic High School Centurions, Greensburg
Greensburg Central Catholic High School went way back to its Roman roots for the Centurion mascot. These Roman army commanders were known for leading legions to victory, so it's good symbolism for the school's sports teams.
Source: facebook.com/GreensburgCentralCatholic
#8 Punxsutawney High School Chucks, Punxsutawney
No, it's not a big shoe. The name of the town is a dead giveaway that the high school mascot is named after the most famous woodchuck in the world. No word on whether the Punxsutawney High School mascot sees it's shadow on Groundhog's Day.
Source: http://hometownpunxsy.blogspot.com/
#7 Ridgway High School Elkers, Ridgway
Being an elk just didn't seem like the right fit for Ridgway High School. So, like other schools in the state, Ridgway HS put an "er" at the end of it and made it into a designation.
Source: mshs.rasd.us/
#6 Abington Senior High School Galloping Ghosts, Abington
This Headless Horseman-inspired mascot is among the most creative characters in Pennsylvania. Turns out legendary football player Red Grange was nicknamed the Galloping Ghost. Grange attended on Abington HS pep rally in 1931 and he was so awe-inspiring the school created a mascot in his honor.
Source: dailytrackpic.wordpress.com
#5 Jenkintown High School Drakes, Jenkintown
The mascot isn't an homage to the singer. Drakes is another name for male ducks, which suggests the mascot was chosen before the school had female athletic teams.
Source: facebook.com/JenkintownDrakesVarsityFootball
#4 Roman Catholic High School of Philadelphia Cahillites, Philadelphia
Here's a little history lesson for you. Thomas Cahill founded Roman Catholic High School in 1890. It was the first free Catholic school in the country. Students and alumni began referring to themselves as Cahillites and the name stuck.
#tbt 2004 The #Cahillite stops for a rest on a trek over the Ben Franklin Bridge #Roman #purpleandgold #RCHS125 pic.twitter.com/ObppEe7d0O

— RomanCatholicHS (@RomanCatholicHS) May 22, 2014
#3 - Boiling Springs High School Bubblers, Boiling Springs
Is it hot in here, or is it just the Boiling Springs High School mascot? You may have noticed a trend by now that Pennsylvania high schools like to create a mascot based off of what their town is known for. This rural town's claim to fame is bubbling natural springs. But unlike other schools, Boiling Springs HS literally has bubbles as the representation of their mascot.
Source: coachesaid.com/
#2 Mars High School Fightin' Planets, Mars
The city really embraced it's name when it came up with the high school mascot. Plus, what can beat a planet in a fight? The stars may align and the Fightin' Planets could play the Meteors of Montrose.
WPNT 22 The Point to Broadcast Aug. 25 Fightin' Planets Football Game. #goplanets https://t.co/qQULxrXsqf pic.twitter.com/O27dH5ABzy

— Mars Area SD (@MarsAreaSD) August 24, 2017
#1 Benjamin Franklin High School Electrons, Philadelphia
Benjamin Franklin High School could have picked a number of mascots to represent the man the school is named after. A kite, a firefighter, a pair of spectacles. The school choose to go with Electrons. Hopefully they never have to play the Protons.