Cars have changed a lot since the year you were born. Today, we're all lusting after the Tesla 3 , Googling a Mercedes Pullman (because Drake said he drives one), and wondering if Lincoln crossovers are more than alright, alright, alright , thanks to one Matthew McConaughey. As we continue to invent fuel-efficient cars and experiment with self-driving vehicles, it's crazy to think that not but 30 years ago we were seeing the first Jeep Wranglers or that 20 years ago, Chrysler designed a revolutionary minivan with a driver's side sliding door. In 2016, teens getting their driver licenses dream about Range Rovers and Maybachs , but in 1996, we were pining after the Ferrari Testarossa , driven by Dr. Dre and Michael Jordan.
To see how far auto technology has come since the year you were born, Aceable took a look back at the history of motor vehicles from 1980-2002. What was the most iconic car in your birth year?
1980 — Audi Quattro
People born in 1980: Ryan Gosling, Kristen Bell
photo credit: Stahlkocher
The first rally car to use four-wheel drive, the now defunct Quattro lives on as the namesake of Audi's AWD system. 1981 — DeLorean DMC-12
People born in 1981: Tom Hiddleston, Beyoncé Knowles
photo credit: Kevin Abato
Known as the time-machine car in Back to the Future , the DMC-12 has remained a pop culture symbol long after its 1981 debut. 1982 — Pontiac Firebird Trans Am
People born in 1982: Nicki Minaj, Seth Rogen
photo credit: Arroww
GM's Trans Am had a starring role in the '80s television show Knight Rider , in which it played a a high-tech automobile that housed an artificially intelligent robot . 1983 — Volvo 760
People born in 1983: Chris Hemsworth, Mila Kunis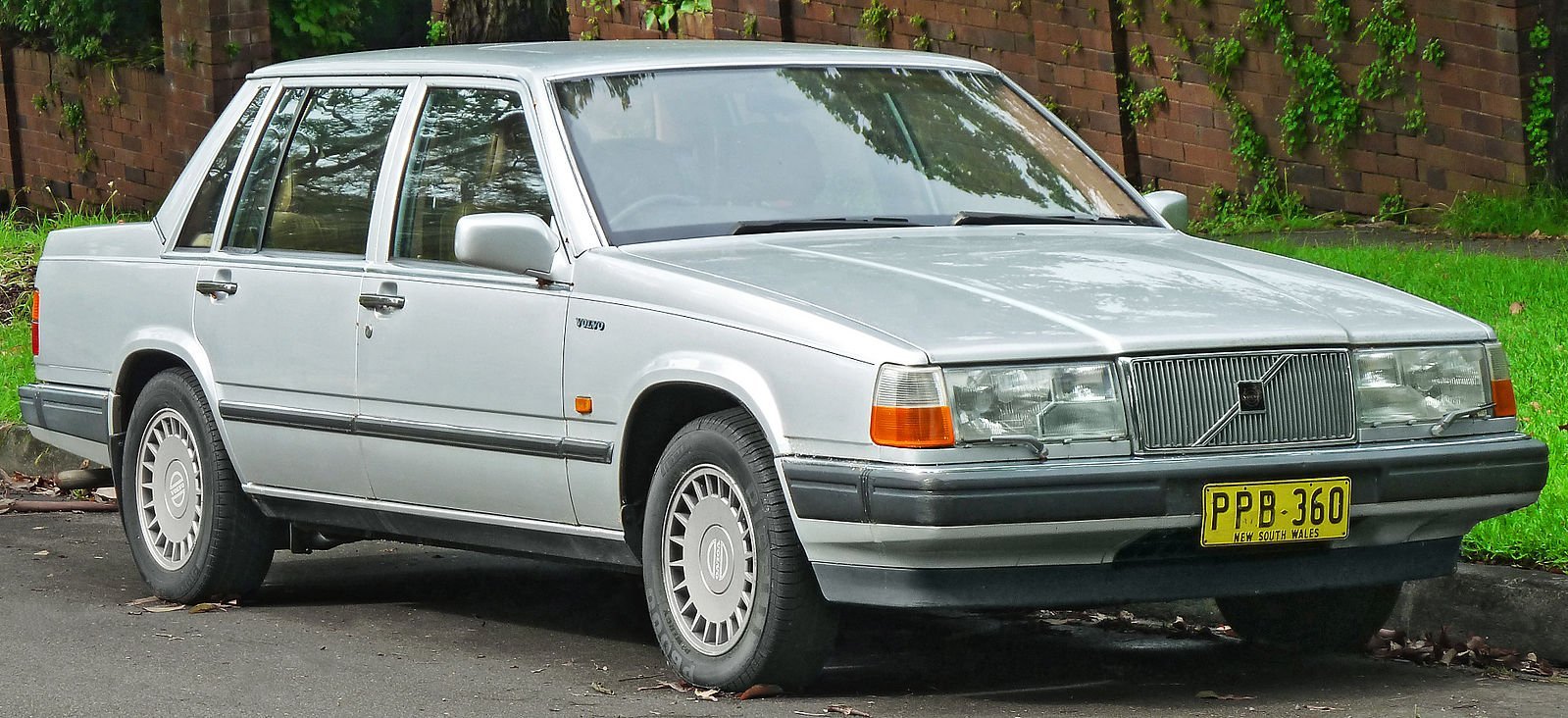 photo credit: OSX
Introduced in the United States in 1983, the Volvo 700 became synonymous with family, safety and suburban life. 1984 — Jeep Cherokee
People born in 1984: Katy Perry, LeBron James
photo credit: IFCAR
Americans began a decades-long love affair with the Jeep Cherokee after it was introduced in 1984. The Cherokee has been called 'one of the greatest cars of all time' by numerous automobile publications. 1985 — Porsche Turbo 944
People born in 1985: Dave Franco, Anna Kendrick
photo credit: Mr. choppers
The sports coupe was named "Ten Best Cars" by Car and Driver for three years running — and it's no wonder why. In 1985, Car and Driver staff tested the Turbo and went from 0 to 60 mph in less than 6 seconds. 1986 — Jeep Wrangler
People born in 1986: Lady Gaga, Kit Harrington
photo credit: KFearnside
With the introduction of the Jeep Wrangler, a new community of automobile aficionados was born. If you've ever seen Wrangler drivers throw the 'Jeep wave' on the road, then you know this car owner camaraderie is second to none. 1987 — Ferrari F40
People born in 1987: Blake Lively, Zac Efron
photo credit: Alexandre Prévot
The F40 was the last Ferrari model approved by Enzo Ferrari himself, and coincided with the company's 40th anniversary celebration. 1988 — Pontiac Grand Prix
People born in 1988: Rihanna, Stephen Curry
photo credit: Gtpmann
The 1988 Pontiac Grand Prix was the first generation of the model with front-wheel drive. Hailed for its aerodynamic design and sporty style, the mid-size coupe was named Motor Trend 's Car of the Year for 1988 . 1989 — Mazda MX-5
People born in 1989: Taylor Swift, Daniel Radcliffe
photo credit: free photos & art
The Mazda MX-5 was regarded as a modern twist on the traditional British sport car of the '50s and '60s. With its revolutionary lightweight design, the Japanese roadster was named Car of the Year in 1989 by Wheels Magazine . 1990 — Chevrolet Corvette ZR-1
People born in 1990: Jennifer Lawrence, The Weeknd
photo credit: HorsePunchKin
Known as the "King of the Hill" corvette, the ZR-1 was a collaboration between GM and Lotus that excelled in both speed and acceleration. 1991 — Ford Explorer
People born in 1991: Fetty Wap, Emma Roberts
photo credit: Bull-Doser
After this family-friendly SUV debuted on the market, it quickly became one of the best-selling and most popular cars of its kind. 1992 — McLaren F1
People born in 1992: Selena Gomez, Sam Smith
photo credit: Sfoskett
Still widely regarded as one of the greatest supercars of all time, the McLaren F1 could reach a speed of 231 mph, setting the record for the world's fastest production car. 1993 — Ford F1-50
People born in 1993: Ariana Grande, Zayn Malik
photo credit: Henry.hilliard
The best-selling pickup since 1977, the F1-50 had another stellar year in '93 with more than half a million models sold. The year before, the F-series got a major makeover, coinciding with the 75th anniversary of Ford's first-ever truck. 1994 — Ford Bronco
People born in 1994: Justin Bieber, Dakota Fanning
photo credit: IFCAR
Perhaps the most controversial car in American history, the Ford Bronco became known as O.J. Simpson's getaway ride after 95 million television viewers watched the vehicle speed down California's highways in the now infamous police chase.
1995 — Ferrari Testarossa
People born in 1995: Gigi Hadid, Troye Sivan
photo credit: Mutari
Driven by the likes of Elton John, Michael Jordan and Dr. Dre, the Ferrari Testarossa made numerous appearances on the cover of Road & Track magazine and was also featured in several seasons of Miami Vice .1996 — Dodge Caravan
People born in 1996: Zendaya Coleman, Austin Mahone
photo credit: IFCAR
In 1996, Chrysler unveiled its first non-compact minivan with a driver's side sliding door, much to the delight of soccer moms (and dads) everywhere. 1997 — Mercedes Benz SLK
People born in 1998: Kylie Jenner, Cody Simpson
photo credit: IFCAR
Introduced to the U.S. market in 1997, the Mercedes Benz SLK was praised for its unique retractable roof, of which Car and Driver said, "shakes and rattles less than any other flip-top in the world." 1998 — Lincoln Navigator
People born in 1998: Shawn Mendes, Ariel Winter
photo credit: IFCAR
The Navigator was the first SUV ever designed by Lincoln. In 1998, the popular model helped Lincoln take the title of best-selling luxury car brand , beating out its competitor Cadillac by 4,551 vehicles. 1999 — Porsche Boxster
People born in 2000: Bea Miller, Cameron Boyce
photo credit: OSX
This two-seater droptop was perfect for cruising down the coast. Though the Boxster debuted 1996, demand for it was so high that Porsche decided to double production in 1998. 2000 — Lexus RX 300
People born in 2000: Jordyn Jones, Hayes Grier
photo credit: IFCAR
Lexus knocked it out of the park with this mid-size crossover model, as the RX 300 became one of the bestselling luxury SUVs of all time. 2001 — Chrysler PT Cruiser
People born in 2001: Sasha Obama, Maddox Jolie-Pitt
photo credit: IFCAR
With its bold retro design, this hatchback received mixed reactions from consumers when it debuted in 2000. While the Cruiser was certainly one of the most distinct-looking Chrysler models, it was also one of the best-selling, with 1.35 million produced over the course of 10 years. 2002 — Mini Hatch
People born in 2002: Maddie Ziegler, Romeo Beckham
photo credit: OSX
Introduced in 2000, the modern-day Mini was a revamp of Britain's best selling motor vehicle . The classic-looking car came in a variety of colors, including electric blue, yellow and sea green, and buyers could customize the car's trim, roof and body.