It's officially summer, which means it's time for long days filled with friends and adventures. No exotic vacation plans? No problem. There's so much amazing stuff to do in the Dallas-Fort Worth area, you won't need to go far to have a good time. We've made it easy to plan your best summer yet with this list of fun things to do in DFW. When you show up at school again in the fall, you know everyone is gonna ask you what you did over the summer. Have a good answer!
Maybe one of your summer goals is to get your driver's license. Aceable can help with that too! Download our app and get our state-approved drivers ed course for 25% off . It's the best way to get licensed fast. Start now and fulfill your drivers ed requirement wherever you want. Don't let a boring classroom course keep you from all these amazing summertime activities.
Here are the 50 things every Dallas teen should check off their bucket list this summer:
1. Soak up some sun at the Dallas Arboretum and Botanical Gardens. Get out there for a leisurely stroll or a concert at their Garden Gigs or Cool Thursdays concert series. Pairs best with the snapchat flower crown filter.
Hello, photo ops.
2. Temperatures are already creeping close to 100 degrees. Better grab an icy popsicle from Steel City Pops . Hhmm, raspberry lemon or strawberry shortcake?
3. Get lost in the search for unique fashions and retro trinkets at some of the city's best vintage stores. Try these on for size: Dolly Python , Lula B's , and Elluments .
4. Reach new heights at Summit , where you can challenge yourself with indoor rock climbing or sign up for a yoga or fitness class.
5. Stop watching videos of cute sloths on Facebook and go see the real deal. The Dallas World Aquarium has so much more than fish. We're talking flamingos, manatees, and sharks, oh my!
I mustache you to visit me at Dallas World Aquarium.
6. Enjoy a winter pastime in the middle of summer! Put on your skates and hit the ice skating rink at the Galleria Dallas . Are you that person who slowly shuffles around the perimeter of the rink, holding the wall? It's fine. You can always just go shopping at the plethora of stores at the Galleria instead.
7. Catch the Team USA championships for boxing, fencing, and volleyball at the Dallas Sports Festival June 28-July 8.
8. Go kayaking on White Rock Lake for a fun workout with a view. You can rent equipment at White Rock Paddle Co.
It's lake season!
9. Looking for an all-American summer experience? Get tickets for a Texas Rangers game.
10. Check out amazing works of modern and contemporary art at the Nasher Sculpture Center . And if you're interested in getting into architecture, they even have a workshop called Destination Dallas 2016 for high school students.
11. Mom would be proud if you fit a little education into your summer. Visit The Sixth Floor Museum , an exhibit about the life and assassination of President John F. Kennedy in the same building from which Lee Harvey Oswald fired the fatal shot.
12. Hit up 24-hour favorite Buzzbrews any time of the day or night to get your breakfast food fix. Ahhh, isn't it nice to have a break from you school-year schedule?
Yes, please.
13. Ready for something kind of weird? There are over 100 pairs of brass hands (cast from real people, including Walt Disney and Joe DiMaggio) on display at the Adrian E. Flatt, M.D. Hand Collection.
14. Could this be the Summer of the Sloth? Better go check out the sloths at Sharkarosa Wildlife Ranch on the weekend and see how they measure up to the exhibit at the aquarium.
15. No driver's license yet? Satisfy your need for speed at SpeedZone . They have Go Kart racing, mini golf, an arcade, and more.
16. If the word "insectarium" doesn't give you a case of the nopes, you should really go enjoy the beauty of the Butterfly House at Texas Discovery Gardens .
Butterflies abound at Texas Discovery Gardens.
17. Use some of your free time to give back to the community. Did you know that summer is the most challenging time of year for families living with hunger? Volunteer at the North Texas Food Bank .
18. While you're in the giving spirit, why not buy a ticket to Spark! Saturdays (every Saturday through August 6th). The proceeds benefit creative programming for children of low-income families, and the list of art and music activities is strong (Giant Light Bright? Um, yes.)
19. Meet up with your friends for brunch at Breadwinners . Don't be surprised if there's a line out the door for their delicious breakfast classics. That just means there's more time to catch up with each other.
20. Live the high life 470 feet above the city on the GeO-Deck at Reunion Tower . Snap a few pics of the killer 360-degree view and grab some lunch at Cloud Nine Cafe.
Check out the view from that big microphone in the sky.
21. What's better than seeing the latest summer blockbuster? Seeing the latest summer blockbuster while nomming on pretzel bites. Catch a movie at Studio Movie Grill .
22. Celebrate the official drink of summer in the south at the second annual Lone Star Iced Tea Festival .
23. Find hidden treasures at one of the Dallas area flea markets. Try the Vikon Village market in Garland or Trader's Village in Grand Prairie.
24. It's lit! Spend your 4th of July at Kaboom Town! , one of the best firework shows in the whole country according to the American Pyrotechnics Association (now that sounds like a fun group).
Leave the explosives to the experts this 4th of July.
25. Wander around the Dallas Farmers Market and pick out some fresh produce for your #beachbod. JK, it's all about Roomie's Ice Cream .
26. Take your out-of-town friends or relatives to Wild Bill's Western Store for the most Texas-y shopping experience possible.
27. Hop on your bike and blaze your own trail. Or just hit up the Northaven Trail .
28. This goes without saying, but you should probably go to Six Flags . With a new Virtual Reality rollercoaster (What is this, THE FUTURE?) and expansions to the Gotham City rides, this is the summer to go.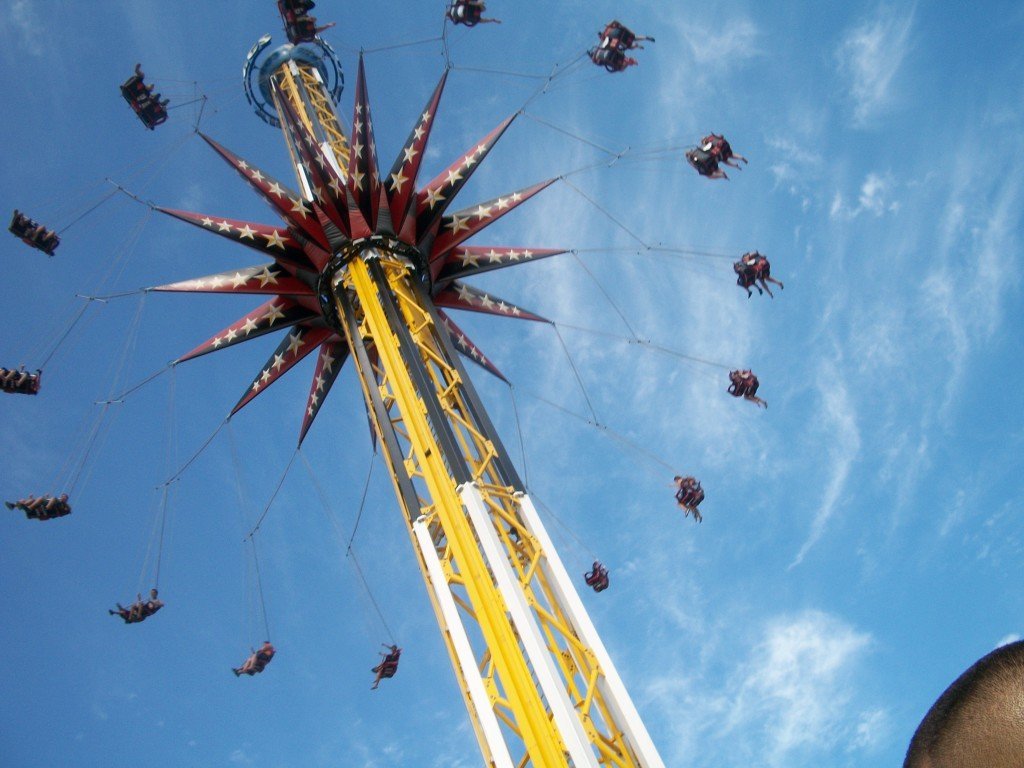 An amusement park is a must on the summer bucket list.
29. Take your entertainment back to a simpler time at the Galaxy Drive-In movie theatre. Hit up the snack bar and settle in for a double feature. Poodle skirts and pompadours optional.
30. Wishing you strength and guidance as you fight the crowds to see Drake and Future's Summer Sixteen tour as it rolls into the American Airlines Center on July 21st.
31. There's always something delightful going down at Klyde Warren Park . Enjoy outdoor yoga, catch a show during the concert series, and/or get a bite to eat at one of the many food trucks.
32. Practice your driving in more ways than one this summer. An afternoon at Topgolf is the best way to perfect your swing in a shaded, temperature-controlled port. Don't forget to order the injectable donut holes!
You're supposed to just hit it as hard as you can, right?
33. Convince the fam to spend a weekend at Gaylord Texan Resort in nearby Grapevine. They just expanded the Paradise Springs water park in time for summer.
34. Or, you can head up to Garland for a splash-tastic day at Hawaiian Falls water park. As a wise meme once said, "Why not both?"
35. If you can spare a few hours, enjoy a few games of bowling at Bowl & Barrel . This stylish joint is not they dingy, smelly bowling alley you knew as a kid. It's a beautiful space with a gourmet menu. Just plan to roll out by 7 pm if you're under 18 and not accompanied by an adult.
36. Find your zen at a yoga class. We Yogis does free classes at two locations every Sunday with new instructors.
Find your ohm away from home at a yoga studio.
37. Lace up your roller skates for some retro fun at White Rock Skate Center , a Northeast Dallas institution that's been around since 1973.
38. If you've never been to a puzzle room, trust us, you need to book an outing with a few friends to try The Escape Room . You get "locked" in a room full of clues and puzzles and have to work together with your team to escape in 60 minutes or less.
39. Get #inspired reading the quotes on the stairs at the beautiful Celestial Park.
40. If you consider yourself a true cone-oisseur, it's your duty to sample every flavor at Sweet Firefly this summer.
It's not summer without ice cream.
41. Try out a dance class or two. Power House of Dance and Park Cities Studios both have schedules packed with teen-friendly classes of all styles.
42. Get tactical in a game of laser tag at Main Event . Get out the way, children! Blue team's got this.
43. We're almost through this list! Better stop and caffienate at the new location of Houndstooth coffee at Sylvan | Thirty. This beacon of buzz originally started in Austin, where the (admittedly weird) Aceable staff is known to sip on Houndstooth's absolutely perfect lattes.
(Almost) too pretty to drink.
44.Upscale shopping, you say? Take shelter in the sweet retail embrace of the NorthPark Center . This place is legit huge with hundreds of great stores to choose from. You've got a summer job to fund all this, right?
45. Wanna practice your backflip without that pesky risk of hitting the ground and breaking bones? Play it safe! Jump around at Urban Air trampoline park.
46. Thursday, July 21st is Dollar Day at the Dallas Zoo , meaning admission is only $1. This place has enough squee-inducing animal exhibits to entertain you all day. I'd buy that for a dollar.
47. Escape to the air conditioned peace of the Dallas Museum of Art , where general admission is free. Whether you like modern or not-so-modern, paintings or sculpture, they've got something that will make you stop and stare. Might we recommend the gorgeous photography of Irving Penn?
Irving Penn for the win.
48. Millennial Month , as you can gather, is an event especially for young folk like you. You can pay what you want and attend Millennials-only events at the Dallas Holocaust Museum. I know this doesn't scream "summer fun," but this is the time to be a good person and learn about an important part of history.
49. Feel like walking around and getting to know your city better? There's a free, public tour of the Arts District every first and third Saturday of the month.
50. Get your driver's license with Aceable! You saw this coming, didn't you? It's fine. We just need to make sure you know about our top-rated app that makes drivers ed better and easier than ever. Get it today for 25% off , and you'll be driving around crossing these fun summer ideas off your list before you know it.
Next summer: road trip!