It's about to be the summer of your life in Austin, Texas. How do we know? Because we've lined up a fire list of 50 things to fill your vacation calendar. You're welcome.
At Aceable, our whole M.O. is helping you get through required stuff quickly (like drivers ed) so that you can move on and enjoy the finer things in life. This summer, download our Texas-certified drivers ed app for 25% off and start earning your license while checking off all these items on our bucket list. Once you're legal to drive, you'll have even more freedom to do the things you want this summer. You're welcome, again.
This could be you if you had your license
And now, 50 items every Austin teen should have on their summer bucket list:
1. Four little words: Blues. On. The. Green . If you don't attend this free concert series at least once this summer are you even from Austin? Psst … Word on the street is that Aceable is sponsoring a Snapchat filter for the June 22 show. So, ya know, send us a selfie.
2. It's getting hot out here, so take off all your clothes ... put on a swimsuit and jump in Barton Springs . This 68-degree oasis awaits you on the stickiest of summer days. Do yourself a favor and go, like, yesterday.
3. Sound and Cinema at the Long Center . Buy your crush a carnitas taco and watch classic films on an inflatable screen in front of the Austin skyline. Now you're living.
Yas, yas, yas
4. The ultimate date night? Peter Pan Mini-Golf . A lil competition, a lil flirting. You know how it goes.
5. Okay, Jordan Spieth. Take your game to the next level (literally) and head to Top Golf , where you can tee off from a two-story complex. Order the mac n' cheese spring rolls and hate yourself afterward.
6. Views for days. Hike up Mt. Bonnell or the 360 Bridge Overlook to see stunning sights of the city. Do it for the insta.
7. Suns out, guns out. Build up those biceps with an afternoon of kayaking or paddleboarding on Lady Bird Lake . Rent gear from Rowing Dock or Texas Rowing Center and slather on the SPF 50.
Canoe believe this?
8. It's not your average movie night at Alamo Drafthouse . Check out special summer features, including a Kanye West glow-in-the-dark sing-along. All of the lights.
9. Feeling inspired by Lionel Messi? Get a group of friends together for Bubble Soccer . Yup, you'll be running around (and mostly falling down) in giant, inflatable bubbles.
10. Take a hike. Explore the Barton Creek Greenbelt with your besties and don't forget to bring a suit for area swimming holes like Twin Falls .
11. Baby, you're a firework. Watch the pyrotechnics over Auditorium Shores on July Fourth while wearing your patriotic best. America the beautiful.
Make American shirtless again
12. Stressed out? Check out Twenty One Pilots at the 360 Amphitheater on July 6 (now sold out, so I hope ya have tix!) or see Drake and Future at the Frank Erwin Center later in the month.
13. Catch some Z's at Zilker Park . Bring a blanket, a frisbee and cute dog if you have one. The ruff life.
14. How So can you Co? Spend the day shopping on South Congress and don't forget to stop for something cold and sweet off the secret menu at Amy's Ice Creams .
Amy's Mexican Vanilla is giving me life
15. Want a barbeque stain on your white T-shirt? With school out, you've got time to stand in that endless line at Franklin's , endure the crowds at La Barbecue or wait for brisket at Salt Lick . Finger lickin' good.
16. Stay thirsty, my friends. Grab an icy coffee drink at Mozart's and enjoy one of Austin's best lakeside patios.
17. Take bae out to the ballgame. Watch the Round Rock Express at Dell Diamond while munching on peanuts and cracker jacks. Buy tickets for July 14 and get a free George Strait bobblehead. You know you want one.
18. Whatever floats your tube. Float the river in nearby San Marcos with friends and a set of waterproof speakers. Get a group together and set sail from Texas State Tubes or Don's Fish Camp .
Rollin' on the river
19.Have it made in the shade. Check out Shady Grove 's summer concert series every Thursday night and get you some chicken fried steak while you're at it.
20. Get weird in Wimberly . Take a road trip to the Blue Hole or Jacob's Well where you can cool off and get away from the bright lights, big city for a day.
21. So artsy. Explore the Cathedral of Junk , Baylor Street Graffiti Wall , and other street murals throughout the city. Find the perfect backdrop for your next #ootd.
Paint the town red
22. Ooh, that's my schlit. Head to Schlitterbahn waterpark for a day of slippery slides and cruising down the lazy river.
23. Every kiss begins with queso. Rise and shine for a breakfast taco at your favorite trucks, like Torchy's , Veracruz and El Primo . Your belly will thank you.
24. Zippity do da. Take a zipline tour over Lake Travis and soar as high as 2,800 ft. (Note: Mom's gotta come with if you're under 17.)
25. See the best sunset in Hill Country. Travel out to The Oasis on Lake Travis and watch Mother Nature do her thang.
goals, goals, goals
26. Brush up on Beethoven. Listen to the Austin Symphony on the lawn at the Long Center every Sunday night. Performances include woodwinds, strings, big band and brass. Cause you know I'm all about that bass.
27. Find that one friend who has a boat (maybe you're that one friend) and persuade pops to take your crew for a cruise around the lake.
28. Snow day. Cool down with crushed ice from local favorites like Sno-Beach , Sweet Caroline's Snow Shack and Jim-Jim's Water Ice .
29. Just keep swimming. Head to Deep Eddy Pool for an afternoon dip, then stop by JuiceLand for the tastiest smoothies in Texas.
Ready, Eddy?
30. The dark night. Watch the bats fly out from under the Congress Street Bridge during the 12th Annual Bat Fest . There's even a bat-themed costume contest, so bring along your spookiest set of wings.
31. It's no picnic. Head to Whole Foods on North Lamar for your favorite made-to-order meal (sushi burrito, anyone?), then take it up to the rooftop, or better yet, Town Lake Trail , to dine outdoors.
32. Play tour guide for a couple hours. Sure, you've probably been to the State Capitol Building on a zillion field trips, but your grandma or cousin visiting from out of town hasn't seen the star in the dome. You have to admit it's kinda pretty.
The sage in bloom is like perfume, tho
33. Speaking of good ol' fashioned family fun, invite your parents and younger sibs to join you on an Urban Adventure Quest scavenger hunt around Austin. Navigate for clues with your smartphone and learn a lil city history along the way.
34. Shark attack. Watch Jaws at Next Level Ride Austin from your very own inner tube on the water. Pretend not to think about what's swimming underneath you.
35. Looking for a less scary summer blockbuster? Head out to the Blue Starlite Mini Urban Drive-In for oldies but goodies like The Sandlot and The Goonies .
36. The stars in your eyes. Stargaze with the Austin Astronomical Society from 6 p.m. to midnight on July 23 at St. Stephen's campus. Dat Big Dipper, doe.
When you wish upon a star ...
37. C is for cookie at Tiff's Treats or Moojo . Treat yo'self to some chocolate chips and snickerdoodle with ice cream on top. Om nom nom.
38. While you're on Guad, stop by Tyler's and pick up some preppy summer gear and pocket tees Besides, it's never too early to shop for this fall's burnt orange getup. Hook 'em.
39. Not enough shopping for you? Hit up The Domain in late July or early August, when retailers start pushing big summer sales to make way for their autumn items. Score big savings on swimsuits, especially.
This suit is on 10
40. Olympics watch party. Cheer on Team USA as we bring home the gold in track, swimming, gymnastics and more. Your favorite ultra-fast Jamaican, Usain Bolt, will be competing in his last games, so be sure to catch all his races. Run, Usain, run.
41. Play with puppies. Need we say more? Sign up to volunteer at a local shelter, like Austin Pets Alive and get all of the puppy love. Better yet? Convince mom and dad to let you join APA's Teen Foster Program and bring a furry friend home for a short stay.
42. Build a slip n' slide in your backyard. All you need is a $5 roll of plastic sheeting, sandbags and a hose. Slip slidin' away.
Let it slip
43. Where my Shakespeare scholars at? Watch The Twelfth Night performed by an all-teen cast June 22-26 at The Curtain Theatre . O, had I but followed the arts!
44. Sometimes life knocks you down, so knock down some bowling pins at Punch Bowl Social , where you can also play games like darts and ping pong. The venue is 21 and up after 10 p.m., so be sure to go early, youngin.
45. Satisfy your sweet tooth at the Austin Ice Cream Festival this August, where you can enter contests like fastest ice cream eater, best homemade ice cream and most creative popsicle stick sculpture. You scream, I scream, we all scream for ice cream.
46. Pedal to the medal. Bike the Veloway at Circle C Ranch Metropolitan Park . The 5K stretch will have you ready for the Tour de France in no-time. Eh, maybe not.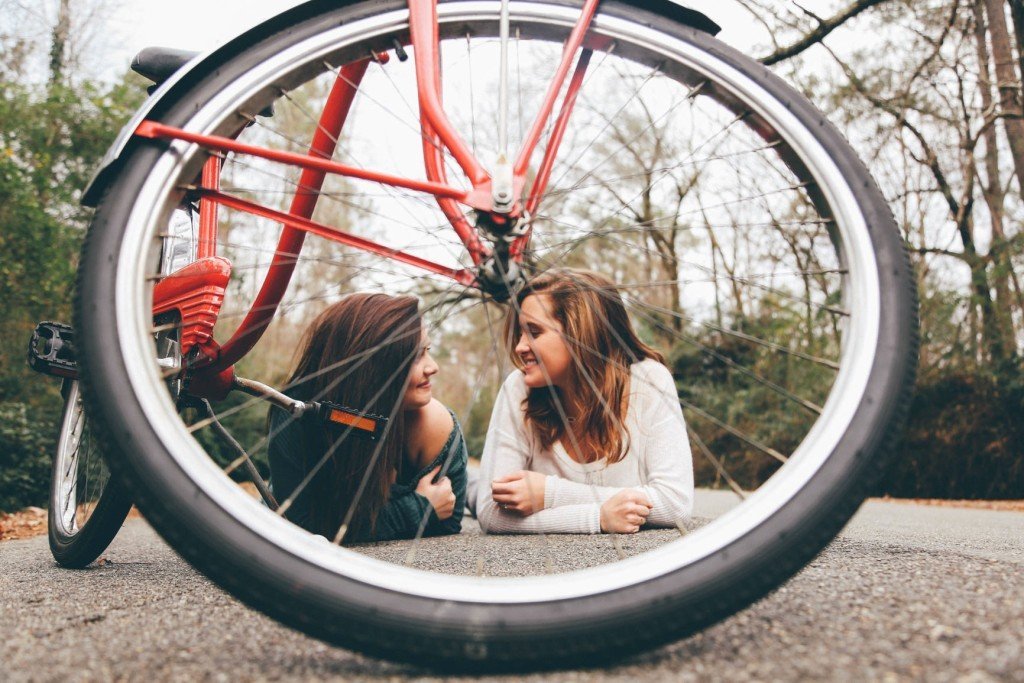 Where your wheel friends at?
47. Flower power. Become one with nature at the Lady Bird Johnson Wildflower Center or Zilker Botanical Garden . Take plenty of pics, but don't pick the flowers. The only floral crown you need is the one in your favorite Snapchat filter.
48. Take a cooking lesson at Central Market with mom (or dad!) and sharpen you skills in the kitchen. Check out the workshop that's all about tomatoes, or for you tomater-haters, indulge in the grocery store's mix-and-match cake class.
49. Wanna cook on your own? Make popsicles with just an ice-cube tray, juice and toothpicks. Okay, so it's not really cooking, but whatever -- it's delicious.
50. Get your driver license with Aceable. Shameless self-promotion we know. But guess what? Everything on this list would be 100 times easier if you could drive a car. We make it simple for you with our top-rated app, GOAT customer service team and best-value prices. Get started today for 25% off cause we love ya that much.