One of the questions we at Aceable Driving get asked most frequently is how to prepare for the driving test. While the keys to acing the test are to simply relax and be confident in what you've learned from drivers ed, your driving instructor and your parents, we thought we'd dive deeper into everything you need to know for the exam. Here's exactly what to expect on the road test and how to prepare for it.
Don't be nervous about the driving test. With our guide, you'll be a pro!
What Is the the Driver Test?
The behind-the-wheel test assesses your ability to operate a motor vehicle. It is different from the driver theory test, or the permit exam, a multiple-choice test that evaluates your comprehension of road rules and regulations.
No multiple-choice questions on this test. You'll be evaluated on your practical skills.
In order to take the driving test, you must first pass the permit test to get your learner permit. Only until you've passed this phase of testing and completed behind-the-wheel training are you eligible to take the driver test.
What Is on the Road Test?
The official DMV test to get a driver license usually consists of two parts. The first part is a skill test that requires you to complete basic driving maneuvers, while the second is an assessment of your ability to drive with other cars on the road. Here are some things you'll need to practice in order to prepare for the exam:
Checking mirrors
Using signals
Backing out and into a parking space
Acceleration and braking
Parallel parking (not required in some states)
3-point turns
Safe following distance
Right of way
Traffic signals
Changing lanes
Shifting gears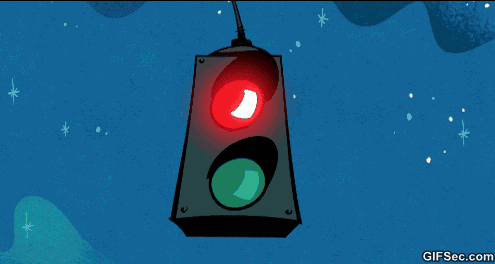 You should probably (definitely) know what a red light means before you take the road test.
Keep in mind that the driver's test varies by state. You should have a strong understanding of the above skills and concepts, but not all may appear on your driving test.
What Do I Need To Bring for the Driving Test?
The most important thing you need to bring to the driving test (besides yourself) is a car! It does not have to belong to you, but you will have to bring provide proof of up-to-date registration and insurance for the vehicle. (Most people who do not have their own car use one belonging to a parent or guardian.) If you're under 18, you'll also have to bring your learner's permit and provide proof that you have completed your behind-the-wheel training. You may also need to bring your driver education certificate.
You'll need proof of insurance and registration before you can take the driving test.
The DMV test will also include a pre-trip inspection of your car to make sure it is suitable to drive. If you have any issues with your vehicle, such as a broken taillight or mirror, you'll need to fix those before you take the exam.
How Do I practice for the Behind-the-Wheel Test?
The behind-the-wheel exam is a practical test, so the best thing you can do is practice, practice practice! Ask your parent or driving instructor to simulate a practice test so that you can get a feel of what to expect on the actual testing day. We're certain that with practice and preparation you'll pass the test with flying colors! You've got this.