At long last, the heat streak has broken, the clouds have returned, the trees are turning and IT'S FALL IN TEXAS! There's so much to be excited about in this turn of the season: a harbinger of the holidays, a reduction in sweat, etc. Whether you're trying to spend some time outside without shriveling up or take a part in the festivities of fall, we've assembled a list of fun times to check out this fall in Texas, no matter where you hang your hat.
In the Austin area you can find:
1. Viva La Vida Festival and Parade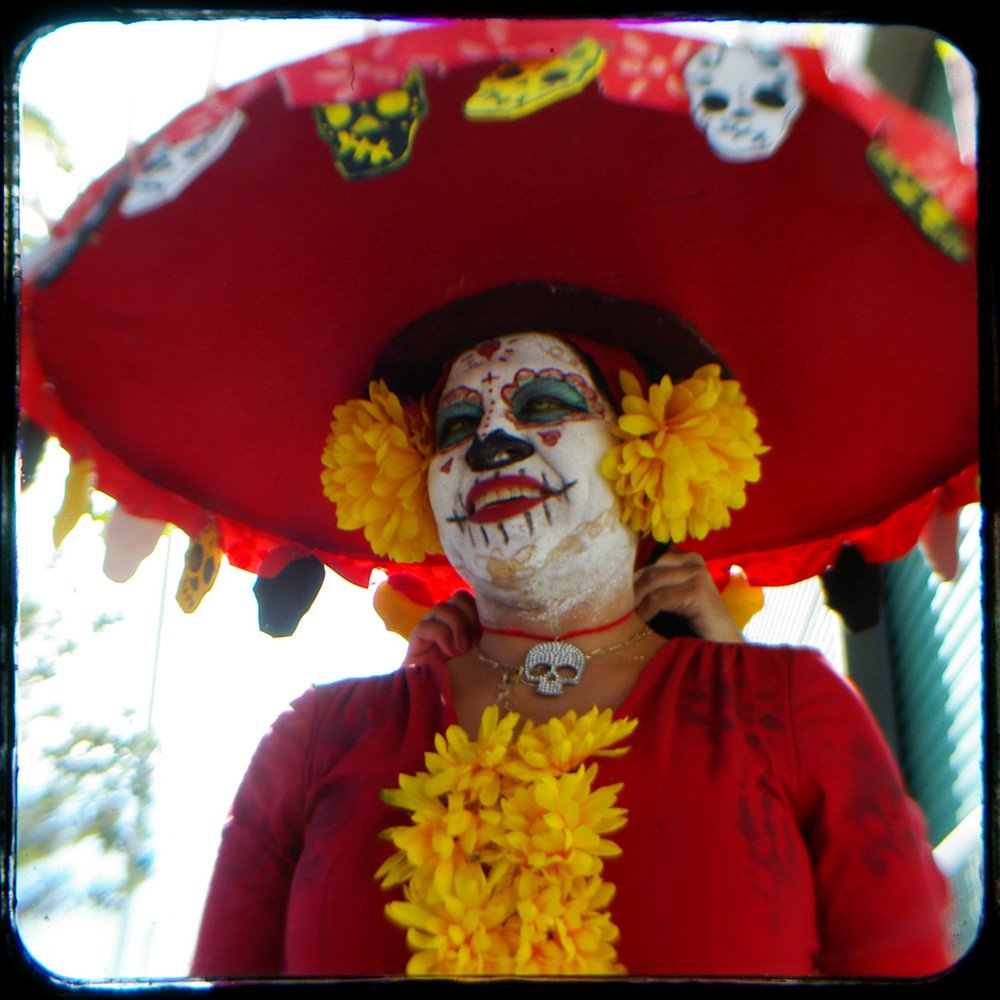 Photo credit: Source
Austin's Mexic-Arte Museum puts on the longest running Dia De Los Muertos event in the city. The festival is packed full of sights to see with a downtown parade, merchants mercado, lowrider exhibit, booths crafts and more. Check it out October 27th.
2. Wurstfest
Photo credit: Source
Grab your lederhosen and a pack of your closest drinking buddies and head on out to New Braunfels for their annual Wurstfest celebration. This celebration of German culture is a beer-soaked, non-stop party running from November 2nd to 11th. The park has an on-site carnival, biergarten, dancehall, and more sausage and bratwurst than you can handle. Be sure to check out their schedule for specialty events on designated days.
3. Pfall Chili Pfest
Photo credit: Source
You must be from the Austin area to understand why the Pfall Chili Pfest requires special pronunciation, just like its town host, Pflugerville. On Saturday, October 20th the festival will kick off for one day only of chili cook-offs, tastings, live music, food, and drinks. Bring the whole family along but maybe drop the little ones off in the kid area for the pepper eating contest because things will undoubtedly be heating up.
4. Texas Monthly's Annual BBQ Festival
Photo credit: Source
There's nothing more Texas than a whole weekend devoted to smoked meats. Texas Monthly hosts this three-day festival where Austin's top 50 BBQ pitmasters have all been invited to prepare their craft in one arena. Enjoy some que, sit in on the masters as they cook for an audience and maybe even learn a little a thing or two to up your backyard grill game from the many panels and workshops scheduled.
5. Austin Beer Week
Photo credit: Source
Austin's pretty particular about a lot of things: tacos, music, technology. The list goes on and on. But there's one form of craftsmanship that has taken the city by storm in the past few decades and that's craft beer. Come out and celebrate the innovation and originality of Austin brewers in this week-long, beer-soaked showcase put on by the Texas Craft Brewers Guild.
In the Dallas-Fort Worth area:
1. State Fair of Texas
Photo credit: Source
Whether you're looking for an original date idea or day of fun for the whole family, the state fair is a thrilling way to spend your day. We all know and love the nostalgia of the fair: cotton candy, kettle korn, cattle roping, and topsy-turvy rides. However, everything's bigger and better in Texas and the state fair is certainly no exception. Boasting titles of both the longest running and one of the largest fairs in the nation, the fun will run from September 28th to October 21st.
2. Dallas Observer 3rd Annual Tacolandia Festival
Photo credit: Source
For the fourth year in a row, Tacolandia returns to Dallas to rain its tortilla wrapped blessings upon us. An admission ticket gets you in with unlimited taco tastings, live music, and access to a cash bar. The Dallas Observer hosts over 30 awesome vendors who will be cookin' up their own special twists on the classic we all know and love.
3. Dallas Uptown Foodie Walk
Photo credit: Source
The fall is the perfect time to hit the historic streets of Uptown and indulge in one-of-a-kind, upscale Dallas cuisine. The Foodie Walk is a 4 hour long guided tour weaving through the 125-year-old alleys and pedestrian-friendly streets of north Dallas. Foodies can expect a blend of sightseeing, history, and of course, multiple courses of gourmet goods.
4. Pumpkin Patch Express
Photo credit: Source
Visiting a pumpkin patch? Not too unique this time of year. Getting there by train? Now THAT'S doing fall right! The Pumpkin Patch Express located in Piney Woods escorts its guests to Fall-Frenzy station via a 30-minute train ride from Rusk Station. Upon arrival, expect to find the patch, interactive games, prizes, and more! Expect to stay for an hour and a half until the next train comes and enjoy the food vendors and Trick-or-Treat alley on site in the meantime.
5. Henrietta Creek Apple Orchard
Photo credit: Source
In Roanoke, Texas, on a beautiful, family-owned farm, lies Henrietta Creek Apple Orchard. This spot is a wonderful haven with amazing educational opportunities and passionate farmers on site to talk mother nature with. Pick apples of six varieties, scale the landscape, or chat with the owners about the bee-friendly agriculture, pollination research assistance, honey extraction, and more!
Some Houston-area events include the following:
1. Wings Over Houston Airshow
Photo credit: Source
Wings over Houston is an extraordinary, premier Houston event that's considered one of the best air shows in the nation. Get your ticket, bring a lawn chair, and sit back as the spectacle in the sky unfolds above you, showcasing vintage WWII aircraft. Food and beverage vendors will be on site.
2. Texas Renaissance Festival
Photo credit: Source
We'd venture to guess this may be the only place in Texas where you can catch a woman in full chain mill, a trained falcon, and Celtic father Christmas all in one place. We're speaking, of course, about the Renaissance Festival held in Todd Mission, Texas. This festival has every medieval bit of mayhem you could imagine, from jousting tournaments to guillotines. Make sure you check the theme schedule to see what type of garb to dawn on the day of your visit. Hint hint - Oktoberfest happens to be one of the themes! Enjoy merchants, markets, food vendors, entertainment, and above all else, some of the best people watching around.
3. King's Oktoberfest
Photo credit: Source
King's, voted "number 1 Oktoberfest in Houston" runs for two weekends of October: in Pearland the 5th-7th and Houston the 19th-21st. This festival has a ceremonial keg tapping, live music, a bier pong tournament, adult carnival games, arm wrestling and tons of other festivities to drink your way through. Plus, admission grants you one free raffle ticket with a chance to win a trip to Munich, Germany for the OG Oktoberfest 2019.
The Original Greek Festival
Photo credit: Source
Houston has been celebrating Greek culture every autumn for the last 52 years at the Original Greek Festival at the Annunciation Greek Orthodox Cathedral. Be a part of the magic and experience the faith, food, music, and dance of this wonderful community.
Whiskey+Beer+Taco at Eight Row Flint
Photo credit: Source
WhistlePig, Saint Arnold Brewing Co., and Eight Row Flint are pairing up for their second year of the one day only event - Whiskey+Beer+Taco. For $100, you'll be guided through whiskey, beer, and taco pairings and if that's not the trifecta of a lifetime, we aren't sure what is.
And for events around San Antonio:
1. Una Noche En La Gloria
La Gloria arts is hosting its 10th of 10 planned expositions of economic development and support for San Antonio's creative community. In a night of fashion, art, music, and performance, young artists are mentored by professionals to present a night of entertainment and cultural celebration with the goal of uniting the community no matter their age, background or passion of choice.
2. Six Flags over Texas FrightFest
Photo credit: Source
Thrill seekers rest assured, there's a place for you this fall and it's Six Flags over Texas FrightFest. In the turn of the season, the park transforms into a terror-themed playground with ghouls and creatures running amuck and specialty seasonal events and activities.
3. El Dia de Los Muertos at La Villita
Photo credit: Source
Celebrate, remember, and cherish the culture of San Antonio through the Day of the Dead festivities of La Villita. Equipped with the largest open altar display in the city, a slammin' live music line up, and wonderful workshops and crafts for the kiddos. This is your spot to honor the departed and have fun while you do it.
4. Luminaria: Contemporary Arts Festival
Photo credit: Source
Come support local San Antonio artists at this awesome, free, weekend-long event put on by the non-profit arts collective, Luminaria. Each night of the weekend features a new musical performance. On Sunday you can enjoy the arts of the festival all day with brunch, workshops, demonstrations, and an artist market before their after-hours nighttime showcase.
5. Wurstfest
Photo credit: Source
San Antonio ain't just about them margs! Especially in the fall, you've gotta get your beer on too, and Wurstfest is just the place. November 2nd - 11th get out to New Braunfels for Wurst's German party via Texas Winos Tour ! They will provide transportation to the event so that you can have fun responsibly.
If you find yourself down in El Paso, check these out:
1. Mesilla Valley Corn Maze & Pumpkin Patch
Photo credit: Source
Take a day trip to New Mexico to a pumpkin patch a little over 40 minutes outside of downtown El Paso in Las Cruces. Mesilla Valley Corn Maze and Pumpkin Patch offers that and more, with photo contests, a fall fest, hay rides, giant slides, and games galore.
2. Way Out West Fest
Photo credit: Source
It's that time of year again for the third annual, country musical festival, Way Out West Fest! Lee Brice headlines this year's outdoor concert bash packed with vendors and dance floors in Southwest University Park.
3. Chalk the Block
Photo credit: Source
Chalk to Block is an interactive art festival that started as a one-day sidewalk chalk art competition. Since the humble beginnings 10 years ago, the fest has grown into a weekend-long, community-driven artistic showcase with hundreds of artists, live music, and food vendors. Don't miss this transformation of the downtown you know and love.
4. Fall Home and Garden Show
Photo credit: Source
Obsessed with HGTV and ready to renovating on your own, Chip and Joanna style? Make your way down to the 11th annual Fall Home and Garden Show at the El Paso Convention Center. There will be celebrity guests, landscaping and garden exhibits, professional consultations, and show-only price specialties! Bring along your blueprints and inspirations to finally make your house into the home you dream of.
5. Dia de Los Muertos at Concordia Cemetery
Photo credit: Source
There's no better place to celebrate the day of the dead in El Paso than Concordia Cemetery. Tickets are $5 for adults and $1 for students and children. Admission gets you access to real graveside alters on the grounds where skeletons roam, storytelling, a ghost toast, a costume contest, and more!