People's love for horror extends well beyond movie theaters and Halloween festivities. Maybe it's the popularity of shows like The Walking Dead , but it seems like everybody is up for a good scare these days. Even car washes aren't safe.
Where do the cars that star in horror movies go to wash off all that blood? A haunted car wash of course!
Clown-Filled Haunted Car Wash
The Haunted Car Wash in Muskegon, MI is the place that has really put haunted car washes on the map. Starting a few days before Halloween, volunteers get down to Van's Car Wash for some scary, sudzy fun. The masked volunteers (mostly dressed up as terrifying clowns) hide in the dark bowels of the car wash that's illuminated only in red lights and a pulsating strobe. Once you're inside there's no telling what will jump out at your car.
For just $10 per car you can get a wash and an adrenaline rush. The money raised at the Haunted Car Wash goes to a local charity of choice. Last year's beneficiary was Muskegon Rescue Mission.
Hauntingly Good Car Wash for a Great Cause
A few years ago in Paradise Valley, AZ Jackson's Car Wash took a page right out of Van's book. The owners transformed the business into The Hallow-Clean Haunted Carwash . The one-day event was held after the sun went down, making the venue look even more creepified.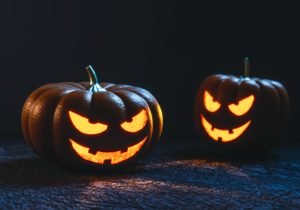 The proceeds raised during the event benefited the Banner Children's health clinic. Instead of charging a flat rate for a wash, Jackson's just asked that each driver to donate what they could.
Haunted Car Washes Are Bigger in Texas
Shine Express Carwash in Arlington, TX has been running a family-friendly haunted car wash for the last several Halloweens. The managers go all out with costumes, props, special effects lighting and a fog machine. But as far as scare tactics go, Shine Express' haunted car wash is a little more tame compared to others.
This haunted car wash is also different than the others since it isn't connected to a charity. But the goal is to give families an extra bit of fun during the Halloween holiday, and they've succeeded.
New Car Wash Celebrates First Halloween With a Tunnel of Terror
When David Warlick opened AquaWave Express Car Wash in 2016 he knew he'd have some fun with it in October. The self-proclaimed "Halloween nut" saw the perfect opportunity to merge his business with his favorite holiday.
On the weekends leading up to Halloween, customers can opt for the Tunnel of Terror package. When you purchase the top-level car wash you get treated to the haunted car wash. Last year Warlick went all out hiring a makeup artist and outfitting his employees with head-to-toe costumes. For $20 it's a cheap way to get a car wash and treat a car full of friends to a Halloween haunting.
Haunted car washes are a Halloween trend that's catching on. More creepy car washes have been spotted in Virginia, Illinois and other states over the last few years. If your vehicle looks like a prop from the Hills Have Eyes movie set, get your heart racing while you knock the dust and dirt off at a haunted car wash.