What up, Indiana? You wanna learn to drive? Cool. We want you to, too. The bad news is that getting your Indiana driver license can be a complicated process if you don't know where to start. The good news is that we're here to help. We're Aceable - and Online Drivers Ed company and we want to make getting your Indiana drivers license less terrifying than completing a bunch of death-defying tasks in order to exchange a sack of sand for a lil' gold statue. Your quest to the Indiana Bureau of Motor Vehicles (BMV) will be a breeze.
How I feel at the BMV
Them Indiana Driver License Basics
Enroll in drivers ed

If you do, you're eligible to get your permit at 15 instead of waiting til you're 16. Can you taste the freedom yet?

Pass your written and vision tests

Don't forget to bring your glasses, corrective lenses, or bioptic telescopic lenses if you need that kinda thing
Visual Acuity FTW
Carry your permit for a while

Rack up 50 behind-the-wheel hours (10 at night) with a licensed passenger over the age of 25

Schedule your driving test

If you enrolled in drivers ed, you can do this at 16 and 90 days
If you did not enroll in drivers ed, you can do this at 16 and 270 days (6 months after you get your permit)

Pass your driving test

Congrats! You get your probationary license. You'll keep that puppy til 30 days after your 21st birthday, at which time you will unlock your unrestricted license and all of those awesome upgraded driving privileges
What's This Drivers Ed Business?
So let's talk about that first bullet point. If you enroll in drivers ed, you can get your permit at 15 instead of waiting until you turn 16. Think of how awesome of a driver you'll be with all that extra practice!
Indiana Drivers Ed:
Once you enroll, you'll receive a Certificate of Enrollment
30 hours of classroom instruction
6 hours of behind-the-wheel instruction

You can choose to do these either online or in a brick-and-mortar driving school
Also, don't forget your 50 behind-the-wheel hours with a licensed 25+ driver, with 10 of those being at night. That is not technically part of your drivers ed, but it is part of your overall driver education, ya dig?
If you're 16+, drivers ed is not required, but it is certainly encouraged. Go into driving knowing the rules and impressing people with your skillz. Be the kind of Indiana driver people look up to.
You know that drivers ed is gonna be good because Indiana requires instructors to take 9 university credit hours related to driver training in order to be eligible to apply to be a certified instructor. You're gonna be getting the best driver training around. Thanks, Indiana!
MFW I take drivers ed. Calm af.
What's the Next Step to Getting Your Driver License?
When you've met the age requirements, finished all your behind-the-wheel hours, and completed drivers ed (if applicable) you are ready to schedule your driving test!
Things you need to do at the Indiana BMV:
While you're at the DMV, you'll need to take three tests, aka complete the trifecta of driving knowledge.
The Written Test : The test is made up of 34 questions. You need to get 28 right and to pass and you have to get 14 out of the 16 road sign questions right. This should be easy peasy if you've taken drivers ed. Just make sure you get there at least an hour before they close.
The Vision Test : Don't worry, you don't gotta study for this one. This test just measures your vision acuity, so just bring whatever you need for vision correction: corrective lenses, glasses, bioptic lenses, whatevs.
The Driving Test : The test to end all tests. You'll have to schedule your test online and then arrive at least 15 minutes before your scheduled time. Be prepared to be tested on all the regular driving things that you should be super familiar with already, including tough maneuvers such as parallel parking.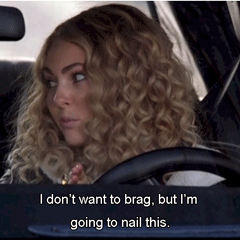 Dis be you.
Things You Need To Bring to the Indiana BMV:
Here are some documents you may need to bring, depending on your age:
Log of Supervised Driving
Agreement of Financial Liability
Some dolla$
Once you've got those, you'll be ready to rock n roll.
Once you pass that driving test, you'll officially be an Indiana licensed driver! If you're under 21, you'll get that probationary license and have to follow these rules . If you're over 21, you'll immediately have that unrestricted license.
See you on the road, bbs!